Welcome to the home of podcasts produced by Open Education Global. These shows bring you insight and connection to the application of open education practices from around the world.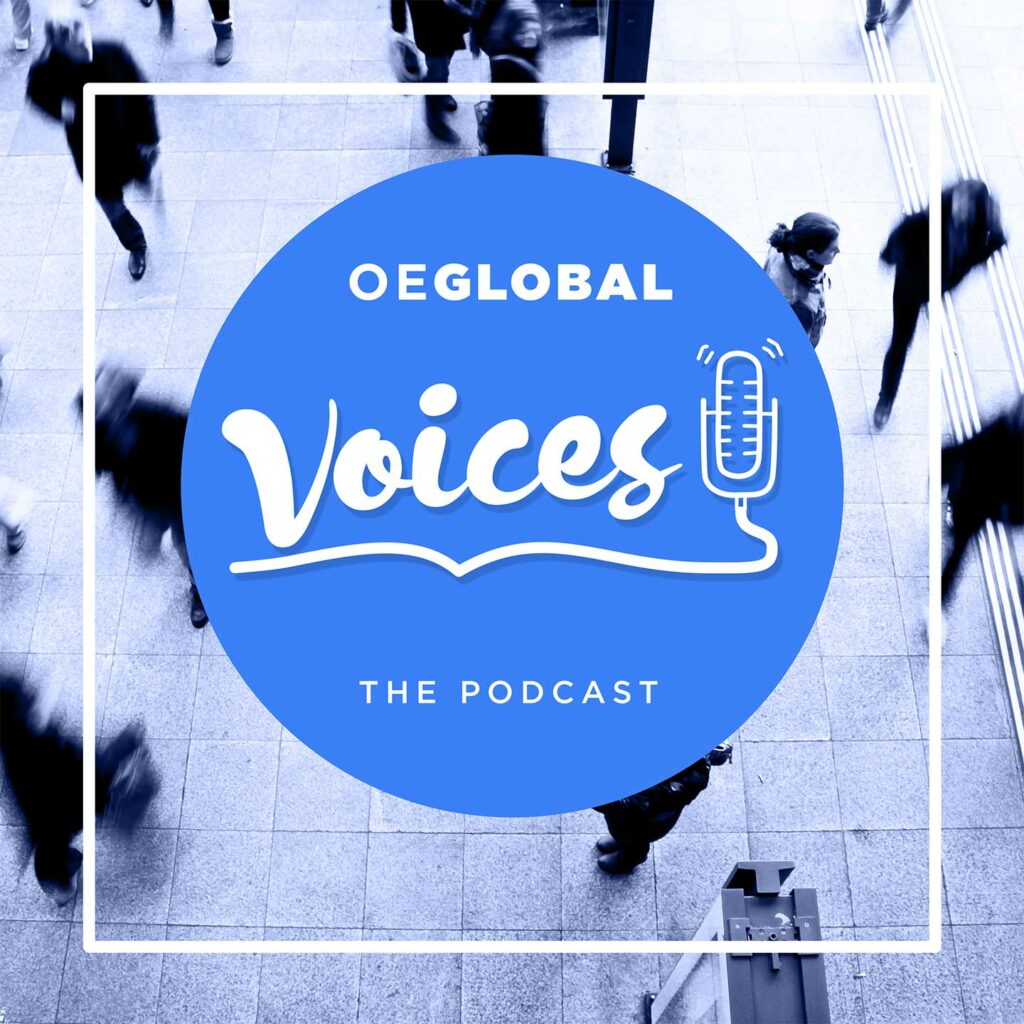 We left room here for future shows, but our primary effort is OEG Voices, where hear from educators to hear their motivations and interests recorded in an informal, conversational style.
As of December 9, 2023 we have published 62 episodes of OEG Voices. You can view episodes:
We created an intro for this show featuring multiple voices, modeling the style of the clever Mailchimp advertisement for Serial.
We also will feature different open licensed music in each show selected from the Free Music Archive — a full playlist of tracks used is available. Plus, in connection to our work with OELATAM, we are planning a series of podcasts all in Spanish.
You can subscribe to OEG Voices in Apple Podcasts, in Google Podcasts, and in Spotify as well as using the podcast feed in any other podcast listening app. Or signup to get notifications of new episodes by email.
If you want to share your voice or suggest other open educators we should invite to our podcast, let us know via podcast@oeglobal.org.
Behind the Scenes
This is how we produce our podcasts, there is nothing exotic or super hi fi technology. We asks our guests, if they are willing to do so, to meet first in zoom, just so we can feel like we are in the same room and to make sure everyone understands how we will record an episode. And to ask if they approve us taking screenshot photos to use when we publish.
We then mute mics in zoom, leaving video on, and connect for audio recording. Once audio recording starts, we then have our conversation while seeing each other in Zoom video. It tends to make people feel like they are in the same space as opposed to the disembodied feeling of watching an audio waveform wiggle.
Previously our editing was done old school style using the ope source software Audacity but since 2023 we have been making used of the marvelous editing and transciption features of Descript. Our standard intro (described above) is added, plus a different open licensed Free Music Archive track for opening and closing. The final mp3 audio is uploaded to this WordPress site and added to an episode's post using the PowerPress plugin.
When published, the episode is cross posted to our OEG Connect community site into an area for this show. The Discourse WordPress plugin automatically generates a new topic in OEG Connect, and the conversations there are syndicated back to this site in place of typical comments.
Again, to see it first hand, join a future episode as a guest. We would love to bring your voice to the podcast. Just send us a message via podcast@oeglobal.org.
---
Image Credit: 2011/365/63 On The Air flickr photo by cogdogblog shared under a Creative Commons (BY) license