Sit back and listen as we take the OEG Voices Studio on the virtual road to Cromwell, New Zealand to hear from Wayne Mackintosh, recognized with a 2020 OE Award for Excellence for leadership. As founder of the OER Foundation and the force behind OER universitas (OERu), Wayne's efforts to provide open education opportunities through the clever use of free and open source software define the characteristics of this award:
Award presented to an individual who has demonstrated significant leadership and longstanding involvement with Open Education. A person who has made significant and clear contributions to the furtherance of the Open Education movement, whose contributions to Open Education have spanned regions and/or had a global impact.
Listen in to more about Wayne's motivations, approach, and concept of running a "radically open organization" in this conversation with OEGlobal's Paul Stacey, Marcela Morales, and Alan Levine.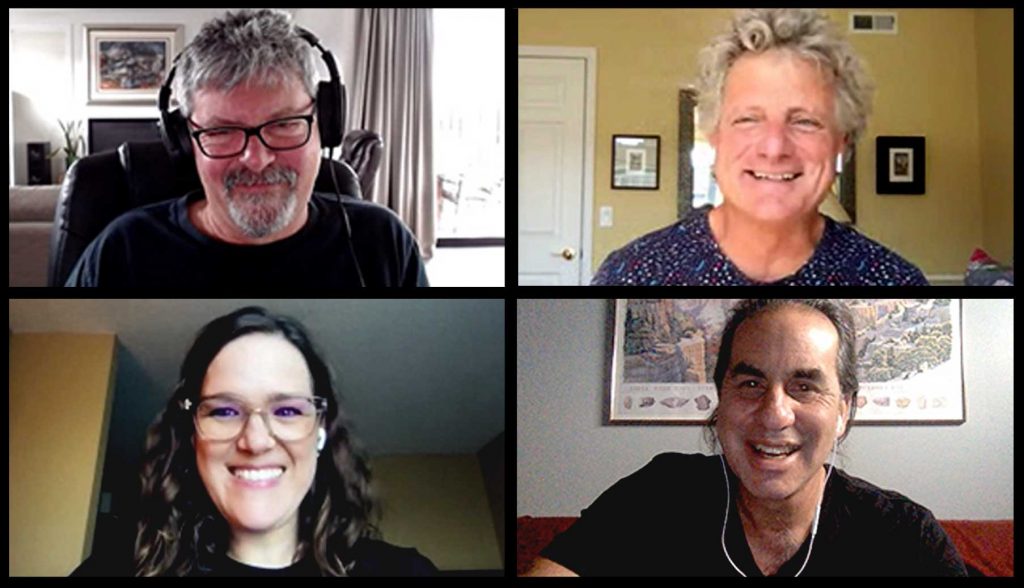 Podcast: Play in new window | Download
Wayne describes the OER Foundation as aiming to open source education itself, thinking of Open Educational Resources as a renewable and sustainable resource.
Citing the spirit of renown physicist Ernest Rutherford who, when asked about the levels of innovation typical of New Zealanders, replied "We don't have money so we have to think." (also embodied in the common New Zealand expression about being able to to anything with a number 8 piece of wire). To Wayne, this same approach directs a lot of what his organization does.
Indeed, as a radically open organization, the OER Foundation is committed to the use of free and open source software in all aspects of their work. Staff members are not permitted to use proprietary software (in the podcast Wayne shares a personal story that motivated this commitment, it is worth hearing!).
The concept of the OERu is built upon a recognition that cost of replication of high quality digital content delivered through open source software is essentially zero, meaning the courses can be provided at no cost to any learner with access to the internet. Any costs involved are associated with assessment of learning. Therefore, the OERu partnering institutions, each contributing content for at least two courses, could charge for assessment services for students, thus building a model of transnational credit recognition.
The delivery system was designed to work outside of a learning management system because the institutions the OER Foundation is focused on helping are ones in developing world lacking budgets to run such systems.
As an example, Wayne shared a recently delivered course designed for Pacific nation learners. Digital Skills for OER Sharing was created for secondary school teachers to find OER, remix them, and develop printable teaching resources for use in the classroom. Hosted as a WordPress multisite on a Digital Ocean droplet costing only $US40 per month, Wayne pointed out that with over 1500 participants they were not even using 10% of the capability of that server. "For $40 a month we can scale that up for 10,000 learners." Learn more about the DS4OERS project.
Wayne described more about this platform. With so many courses offered and being developed, version control is critical. While it is a well developed practice for developers, git is not something most educators will readily use. So the solution is authoring all content in a wiki, using the same Wikimedia software engine that powers Wikipedia. A set of open source scripts developed in house can harvest the set of wiki pages that make up a course and publish them to a WordPress site hosted at OERu or anywhere else. Why WordPress? It is open source too and powers over 40% of the world's web sites or 60% of the market for content management systems.
According to Wayne if you want to learn how to learn on the internet, you cannot do that by single application like a learning management system. Their platform is a distributed ecosystem of open source interaction technologies such as Discourse for discussion forums. The social media platform is Mastodon, the federated open source system not owned by a corporation, a platform where a learner sees no advertisements nor is subject to an activity a feed controlled by an algorithm. Other tools used include SemanticScuttle for social bookmarking and Hypothesis for social web annotation.
This suite of technologies enable us to do some exciting stuff. And that is to start thinking about federated open online courses where you can have different institutions hosting their course content on their WordPress infrastructure, using a mix of hosted discourse forums but maybe our Mastodon, so all of these courses can be running in parallel.

Wayne Mackintosh
In fact OEGlobal is working with OERu to host a version of one of the Learning in a Digital Age courses, but making use of our own Discourse platform (OEG Connect).
While acknowledging the expansion of OERs, Wayne emphatically urges educators to do more sharing:
The challenge we are facing now is crossing the chasm from sharing to learn to learning to share. We have a long way to go in developing a true culture of sharing. For open source developers, their very first step is to look for existing code out there they can reuse, but educators…. should be collaborating better.

Wayne Mackintosh
It's always inspiring to be part of a conversation where Wayne is participating, and we hope we can get a sense in this podcast of how much he deserves this award's recognition for leadership in Open Education.
When asked what keeps him motivated, Wayne responded, "I have a deep and abiding love and passion for education and helping learners– for the majority of my work I am deep in the trenches, developing content, doing the stuff that's helping individuals."
Thank you again, Wayne, for sharing your voice with us.
And stay tuned to the OE Awards web site where on November 15, 2021 the announcements will be made for the winners of the 2021 Individual Awards. You can look forward to a new series of podcasts with the 2021 Awardees and also congratulate them in OEG Connect.
---
Music for this episode is "Joyful Meeting" by Crowander from the Free Music Archive shared under a Creative Commons BY-NC (Attribution-Non-Commercial 4.0) license. If you have a suggestion for a music track we should use for future episodes, we are taking suggestions in OEG Connect.