When we had an idea for a special gift for winners of the 2020 Open Education Awards for Excellence, we turned to the innovative team at Fab Lab Kä Träre, part of the UNED, Distance State University of Costa Rica to bring it to life. In this newest Spanish language episode of OEG Voices, Director of Community Relations Marcela Morales speaks with two Fab Lab representatives, industrial design engineer Farith Tabash Pérez and digital animator Luis Diego Gomez Quesada about the work of Fab Lab Kä Träre, the role of 3D printing, and what it means to be an "Open Laboratory". And the Fab Lab itself was a co-winner of a 2020 OE Award in Open Policy for Technological Devices for UNED's students.
This episode is part of our continuing series of podcasts recorded in Spanish, but see below for a recorded excerpt as an English language summary.
Cuando tuvimos la idea de crear un regalo especial para los ganadores de premios de educación abierta "Open Education Awards for Excellence 2020", recurrimos al equipo innovador del Fab Lab Kä Träre, parte de la UNED, Universidad Estatal a Distancia de Costa Rica para darle vida. En este nuevo episodio en español de OEG Voices, la Directora de Relaciones Comunitarias, Marcela Morales, conversa con dos representantes del Fab Lab Kä Träre, el ingeniero de diseño industrial Farith Tabash Pérez y el animador digital Luis Diego Gómez Quesada sobre el trabajo del Fab Lab, el rol de la impresión 3D y lo que significa ser un "Laboratorio de Fabricación Abierto". El mismo Fab Lab fue co-ganador del premio de políticas de educación abierta (Open Policy Award 2020) por su participación en el proyecto de Dispositivos tecnológicos para el estudiantado de la UNED.
Este episodio es parte de la serie de podcasts grabados en español, no obstante hemos incluido un breve resumen en inglés a continuación.
Podcast: Play in new window | Download
Este es el trofeo diseñado por el director creativo de OEG Mario Badilla e impreso en 3D en el Fab Lab Kä Träre: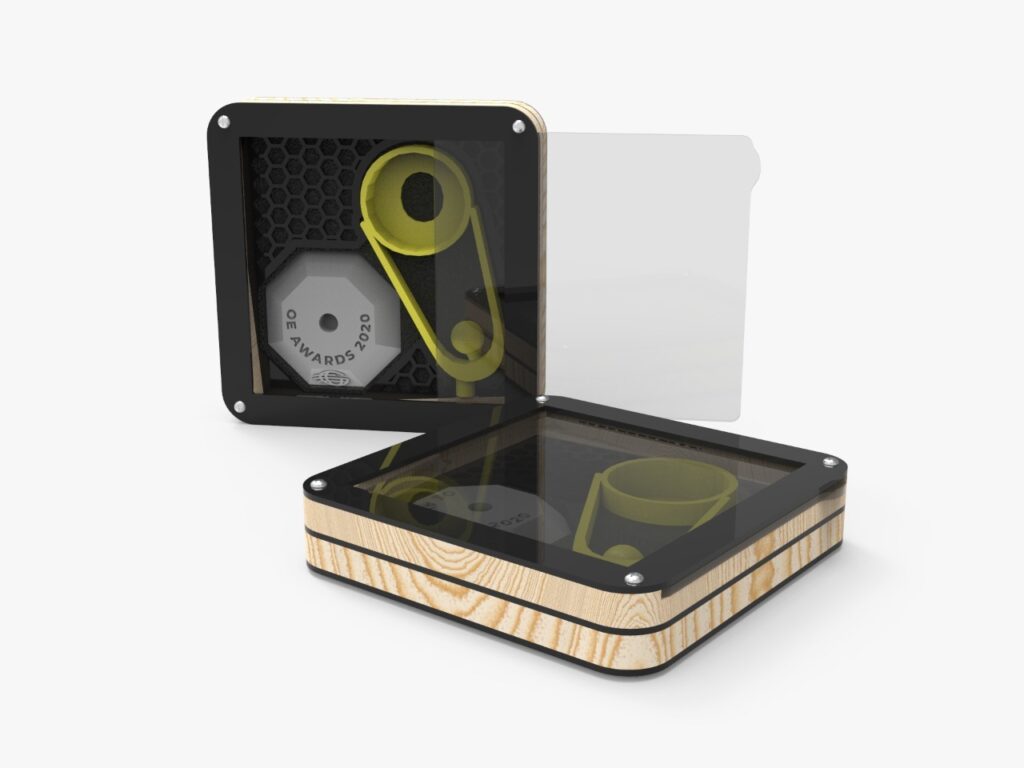 Vea el proceso de impresión 3D en este video proporcionado por el Fab Lab Kä Träre:
For a summary of this podcast, listen to an excerpt recorded in English:
Enlaces web
---
La música utilizada en este episodio fue "Las Miradas de Magaly" de Los Amparito con licencia Creative Commons By Attribution Non Commercial 3.0.