We recorded a second episode of OEG Voices during Open Education Week 2021 — see our first one featuring OEG's Paul Stacey and ALT's Maren Deepwell. We made our second special too, by offering an open invitation to anyone who wanted to sit in and be part of the conversation.
What a conversation it is when we have a chance to talk and listen to Rajiv Jhangiani, Associate Vice President, Teaching & Learning at Kwantlen Polytechnic University (KPU) winner of a 2020 OE Award of Excellence as an emerging leader. He looks great with his trophy!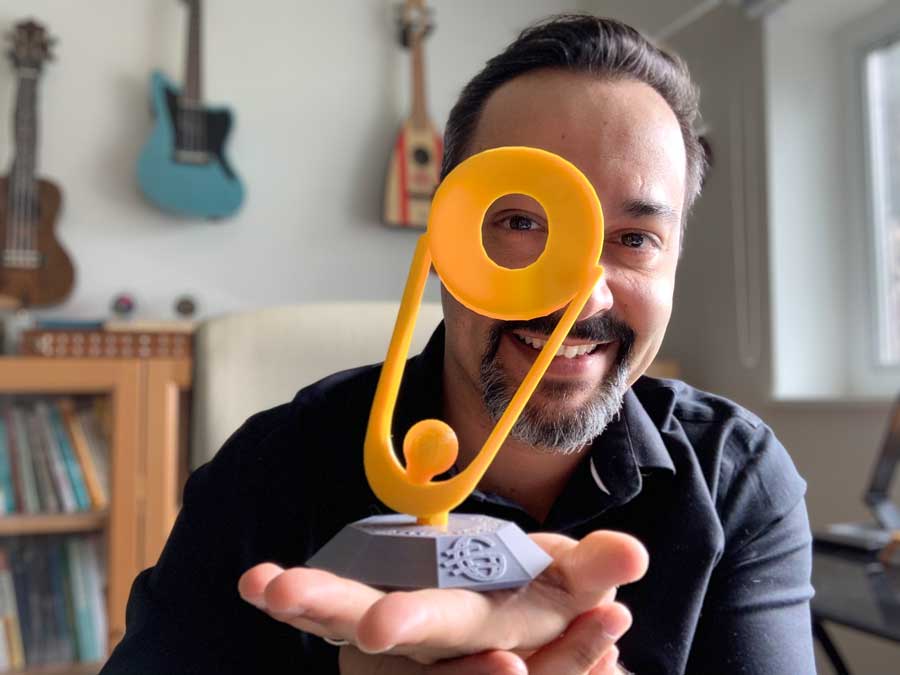 Listening to his voice will understand why Rajiv was recognized as an emerging leader.
Podcast: Play in new window | Download
Joining us inside our virtual recording studio were Marcela Morales, Paul Stacy, and Una Daily from Open Education Global, and our guests Tricia, Solange, and Tanya.
Notes and Links from the Session
During the introductions Rajiv remarked about a colorful mobile in hanging from the ceiling in Paul's home office, and suggested that the artwork's name of "Loving the Wind that Makes the Invisible Visible" was a possible metaphor for the conversation.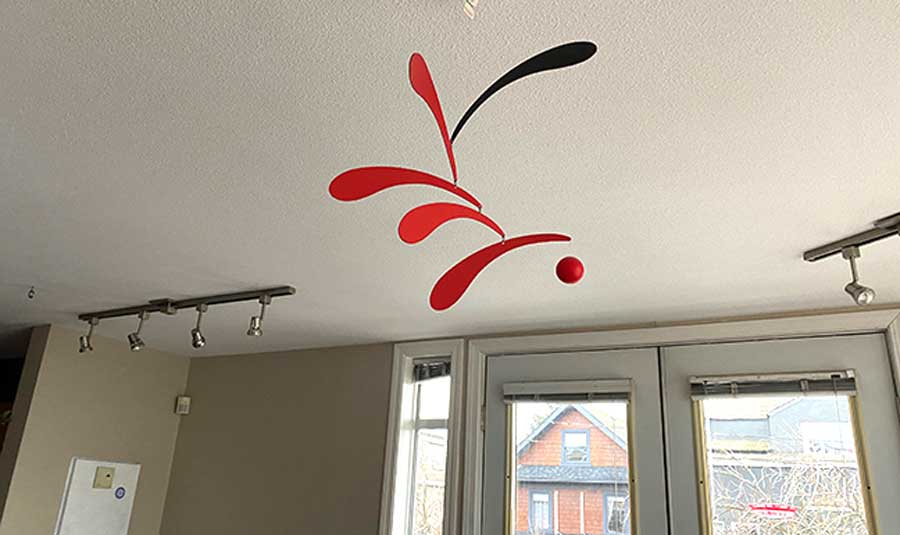 This is just a sample of the caring and noticing approach you find in conversations with Rajiv.
Many of us learned for the first time that the university's naming after the Kwantlen First Nation fits the meaning of Kwantlen as "tireless runner" and is incorporated into the KPU motto: "through tireless effort, knowledge, and understanding."
When asked about a favorite project, Rajiv mentioned Open at Margins: Critical Perspectives on Open Education an open textbook he co-edited with Maha Bali, Catherine Cronin, Laura Czerniewicz, and Robin DeRosa with chapters by a "Who's Who in Critical Open Pedagogy"
Rajiv gave much credit for his development to his colleague, Robin DeRosa "she makes everything I do better" and shared a humorous story how they first connected at the 2015 Open Education Conference in Vancouver (we leave finding the story as an exercise for the podcast listener).
His open textbook the first Canadian Edition of Research Methods in Psychology, published originally in 2013, is now in its 4th edition.
Rajiv eloquently described his philosophy about leading open education initiatives by describing it as "a lived experience not a theoretical construct."
A clear example of this was the way he described KPU's offering of print on demand options for students. It's not used in great numbers and does not involve flash technology, but just being able to offer the options says much to students and the wider community, what Open means.
The impact of open projects is often unseen "far downstream" as he describes, and that what is more important is the potential by being part of communities in and outside his institution.
For his work at addressing equity at KPU, including current projects dealing with EDI, racism, strengthening connections, inclusive training, Rajiv cited the inspirational OE Global 2018 keynote "The Warp and Weft of Open Education and Social Justice" by Cheryl Hodgkinson-Williams.
When asked about success, Rajiv smiles and uses his humor again, sharing how his first entrance into the open education conference scene he saw it dominated by "The Davids" (Wiley, Kernohan, Porter, Cormier). So in his first talk at that 2015 Open Ed Conference, he opened with an explanation that "Rajiv is Hindi for 'David."
But then Rajiv made clear that it's not all about him at KPU, that he is part of a group of open educators, and humbly says that his work is toward a "the point is I become redundant."
Rajiv described the supportive culture of KPU, from the very top leadership and across institution, as well as the valuable role of BCcampus in supporting Open Education. And while the open textbook efforts have created significant savings for KPU students, Rajiv notes that "free is not enough, free is not the goal of open" hinting at his interest in open pedagogy practices, equity, and social justice.
Still, KPU's Zero Textbook Costs program, the first of its kind in Canada, covers over 800 courses including an entire Bachelor of Arts in General Studies program.
KPU also offers United Nations Sustainable Development Goals Open Pedagogy Fellowships in conjunction with several other institution including where the project started, at Montgomery College.
Responding to a question asked by Tricia about supporting part-time faculty, Rajiv answered "One of the areas that we see challenges is supporting part time faculty. Especially when it comes to adapting." But listen to the podcast for a rather startingly and impressive move KPU has made to support adjunct faculty. It had people in the room saying, "I want to work there!"
Thanks again, Rajiv, for being part of OEG Voices. And thanks to our guests too. We just might make this an ongoing feature of future podcasts. If you would like to be a guest, let us know in the comments below. Or if you have any comments, questions for Rajiv, the comment interface is actually connected to our OEG Connect community space, where you can engage more with this episode.
Learn More About Rajiv
You are invited to learn more about Rajiv Jhangiani's work via https://thatpsychprof.com/ (follow him as @thatpsychprof in twitter) and tap into his wisdom.
Together with Robin DeRosa, he co-founded the Open Pedagogy Notebook . He serves on the BC Open Education Advisory Committee, as an Ambassador for the Global Advocacy of OER for the International Council on Open & Distance Education, an Advisory Buddy with Virtually Connecting, and on the editorial board of Ubiquity Proceedings.

He previously served as an Open Education Advisor and Senior Open Education Research & Advocacy Fellow with BCcampus, an OER Research Fellow with the Open Education Group, a Faculty Workshop Facilitator with the Open Education Network, an Associate Editor of Psychology Learning & Teaching and NOBA Psychology, and an Ambassador for the Center for Open Science.

He is the architect of the Zero Textbook Cost (ZTC) initiative at Kwantlen Polytechnic University. It is a first-of-its-kind in Canada program that allows students to choose from over 800 courses or one of seven complete credentials–from one-year Certificate programs to a full Bachelor's degree–with zero textbook costs. Since the launch of the ZTC initiative in 2018, students at KPU have saved over $5 million in textbook costs. Rajiv has published research on the perceptions and efficacy of OER, as well as patterns of OER adoptions 1. His scholarship also includes articles and chapters about open educational practices, open textbooks in Psychology, and two open-access books about open education (2017, 2020 ).
---
Music in this podcast is "Can I Play" by Ketsa, a Free Music Archive track shared under a Creative Commons CC BY-NC-ND license.