Imagine leaving a conference with a colleague, brainstorming an idea for an open pedagogy project at your institution. In four years time it has spread to a collaboration spanning multiple institutions and international borders that generates student led projects where they become agents of change in their own communities.
This is what happened to Shinta Hernandez and Michael Mills at Montgomery College. In this episode of OEG Voices we get to hear about their experiences in leading the United Nations Sustainable Development Open Pedagogy Fellowships.
This highly successful project has grown to include last year 45 faculty fellows whose development of renewable assignments have impacted over 3000 students. This effort was recognized in 2020 with an OE Award for Excellence in Open Pedagogy.
Listen in to the conversation Una Daly and Alan Levine hosted with Shinta and Micheal to understand why this project, humbly described as a "simple marriage of open pedagogy and the SDGs", has definitely earned this award.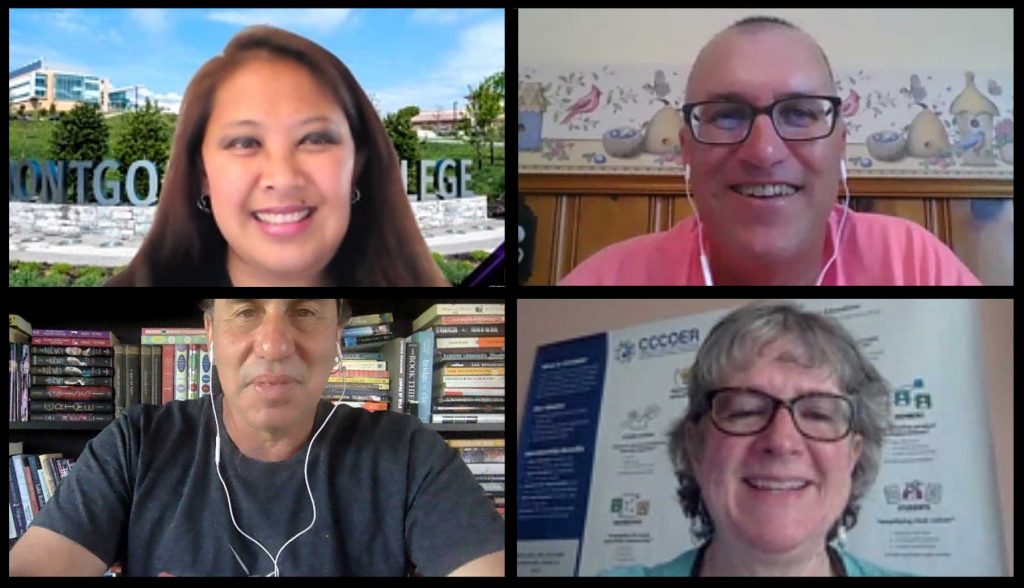 Podcast: Play in new window | Download
The genesis for this project was Shinta and Michael wondering "what if" after attending Cable Green's workshop on UN Sustainable Development Goals + OER + OEP at the 2017 Open Education Conference. Shinta and Michael's idea was to create a fellowship for Montgomery Faculty to work in teams of 2-3 across disciplines (and campuses) to develop new class activities that embraced the idea of renewable assignments.
The conceptual framework on which this fellowship is based is the United Nations Sustainable Development Goals (UN SDGs), which is a set of 17 goals that address a wide range of social issues, such as poverty, inequality, climate change, and peace and justice. The SDGs are designed to achieve and maintain social justice and a sustainable future, with a target of the year 2030 set for the attainment of each goal.

This fellowship is designed to assist faculty with creating renewable assignments (all of which will carry a Creative Commons license) to help students become agents of change in their own communities.

https://www.montgomerycollege.edu/offices/elite/unesco/
After sharing the results of the project at the 2018 Open Education Conference, Shinta and Michael were approached by Rajiv Jhangiani with an interest to expand the fellowship program to include faculty he works with at Kwantlen Polytechnic University. This cycle repeated the following year when the SDG Fellowship program was presented at the Achieving the Dream conference and a representative from the Maricopa Community Colleges expressed an interest to join. Since then the SDG Fellowship program has grown even more to include participation from Pima Community College, Langara College, Thompson Rivers University, and Community College of Baltimore County.
While the program has grown almost exponentially, the basic structure and focus remains the same. Faculty from different disciplines and different institutions are set up in teams to develop over the summer the renewable assignments that reflect the outcomes of the SDGs. The assignments are deployed in the fall semester and reviewed at the end of the semester. Students and faculty then showcase their work in February. By March, the cycle starts up again as new applications are reviewed.
In their first iteration of the program Shinta and Michael asked students to inform the fellows what kinds of assignments they disliked- almost always it was research papers. "We just don't find value in them if at the end of the semester, there's no continuation." So the projects always aim at ones where the students can take action on issues they see. The entire project is centered on students becoming leaders of change in the places they live and it's their work that is fully featured in the showcase.
This is a great opportunity for the students to shine. Often we hear of fellowships where only the fellows shine, and we don't get to hear the students themselves and see their products.

Michael Mills
This also results in significant changes in how faculty design assignments. "We've had a number of faculty tell us that once they have created renewable assignments they question how they ever did the coursework without these type of assignments."
Michael and Shinta both use the term "magic" to describe what emerges when faculty say from Chemistry and Spanish are asked to plan a shared assignment
"We are sure that magic will happen after a while of inspiring and brainstorming with each other." The magic is apparent in their voices and as well in the projects students created– look for examples from Montgomery College M.O.S.T Commons Hub.
See more from the UN SDG Fellowship sites at the participating institutions:
Michael and Shinta give much credit to these partner institutions and the faculty fellows who take on this open pedagogy challenge.
It's to their credit that they took this crazy idea and said 'It's worth trying in our classroom" and then that it's not only worth trying in our classroom it's worth letting students take ownership of their own learning and their own projects.

Shinta Hernandez
If the trends are like previous years, there should be even more participation, more excitement, and more students becoming change agents this year. We hope this project and their episode inspires you to look into the SDG Fellowship concept.
And stay tuned in September 2021 to learn what project is recognized in the Open Pedagogy category. We will be bringing their voices to you.
Learn more about the SDG Fellowship program from the Montgomery College site and engage in followup discussions in OEG Connect.
---
Music for this episode is "Joyful Meeting" by Crowander from the Free Music Archive shared under a Creative Commons BY-NC (Attribution-Non-Commercial 4.0) license.