The organization's name very clearly communicates what they do at Open Education for a Better World (OE4BW), an international mentoring project that matches people with world bettering ideas to domain experts all aimed at creating Open Education Resources that help achieve the UN's Sustainable Development Goals (SDG).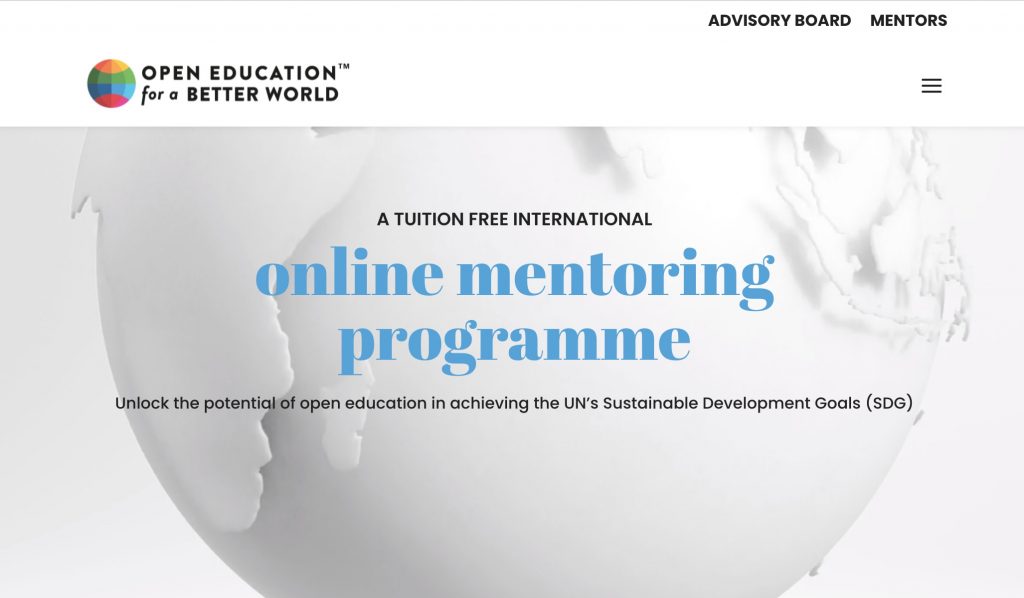 Listen to this episode where the voices of OE4BW initiators Tanja Urbančič and Mitja Jermol visit us from Slovenia to share their program that was recognized with a 2020 OE Award for Excellence in the Open Collaboration category.
Podcast: Play in new window | Download
Tanja, Dean of School of Engineering and Management at the University of Nova Gorica, teaches and researches knowledge management described her long interest in interdisciplinary projects "especially international projects where collaboration goes beyond borders of any kind." Her colleague Mitja described a few of the "many hats" he wears as UNESCO Chair on Open Technologies for Open Educational Resources and Open Learning and leading the Centre for Knowledge Transfer in Information Technologies (CT3) at Jožef Stefan Institute. His interests are in artificial intelligence (AI) and how it can address global issues and especially open education "My incentive is to try to make a better world though education."
The genesis of OE4BW came from Tanja and Mitja's experience at the 2nd World Open Educational Resources (OER) Congress hosted 2017 in Ljubljana. With a desire to keep the momentum from that event going, they were inspired by the goals of the Data Science for Social Good project to launch a call for participants interesting in creating SDG aligned open resources who would be matched with experts who could advise them. Just from communication through their network, they accepted 14 project ideas in 2017, and set up the OE4BW structure for setting up mentor relationships and suggestions for online communication, providing some support mechanisms, and planning a year end in person event to meet and share projects. All accepted projects are ones that address a world problem connected to one or more SDGs, identifying an OER solution that will impact society and assure the quality of the developed OER.
You can chart the success of OE4BW with the 2018 number of applications doubling to 35, then 80 in the third year, and over 100 this year. Explore the collection of over 200 projects developed by mentees from 40 countries.
This growth led to the development of "hubs" in 2018 along with Hub Coordinators who help to facilitate communication and be a contact point. The first three hubs were geographical to help with time differences- South & North America, one for African and Europe, one for Asia. In 2019 came the development of topical hubs such as one around SDG 7: Energy, Climate Change.
Tanja and Mitja described a few keys to the program's success including:
The matching of proposed projects to mentors
The motivational impact of aligning projects to SDGs
Expanding the project and distributing the support as a network via the hubs
Mitja sees so much positive energy in OE4BW:
For me it was a game changer to see all this positive energy, enthusiasm, friendships which is going across cultures, across the globe, no limits. Its final goal which would be creating something that would be a benefit for others.

Mitja Jermol
When asked about the most surprising element of the project Tanja mentioned the strong interest from youth, leading to development of a new section to support young people who want to part of changing the world. OE4BW is truly an exceptional program and it is easy to see why it was recognized with an OE Award of Excellence.
It is a privilege to be in this program. It's so wonderful to meet these people, to work with them. It's the best you can get out of it… And then you see in practice how people can do wonders together when they have the same goals and they open themselves in genuine, open communications. That is just something I would like everyone to experience.

Tanja Urbančič
If you would like to experience Open Education for a Better World visit them now at https://oe4bw.org/. You might be inspired by and interested in using one of the projects, or maybe applying to be part of the program or the mentor network. Or you can post any questions related to this podcast in OEG Connect (see below).
We appreciate Tanja and Mitja taking time to visit with us.
---
Music for this episode is "Joyful Meeting" by Crowander from the Free Music Archive shared under a Creative Commons BY-NC (Attribution-Non-Commercial 4.0) license.