In our continuing series of conversations with OE Awards for Excellence winners, we can hear the care and passion for helping educators from the voice of Apurva Ashok, Rebus Community Project Lead, who was recognized in 2020 in the category of Support Specialist. Listen to Apurva and you will appreciate why the person who nominated her for this award wrote:
Apurva stands for everything that makes the open education movement shine. She is a modest but diligent worker who builds communities around OER projects. She is extremely generous with her extensive knowledge of OER publishing, thoughtful about the implications of volunteerism in open education, and resourceful in her troubleshooting. Apurva has co-authored The Rebus Guide to Publishing Open Textbooks (So Far) as a way to publicly share a flexible methodology for publishing open books. It is people like Apurva, and Apurva specifically, who turn the wheels of the open education machine. She harnesses the creativity and passion of OER creators, giving them guidance, direction, and support, to publish OER in an environment that rewards vulnerability and experimentation.
This conversation with Apruva included OE Global's Una Daly, Marcela Morales, and Alan Levine. We hear about her entry path into her current role, her approach to community building, and the development and success of the Textbook Success Program, the professional development program that helps faculty understand the process and challenges of open textbook publishing and proving them community-based support.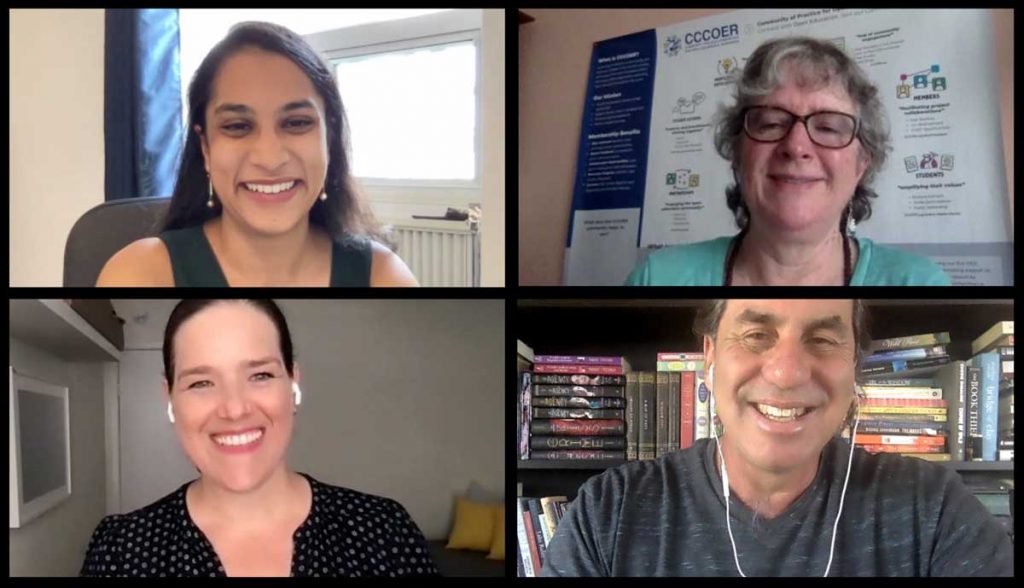 Podcast: Play in new window | Download
Asked for examples of open pedagogy approaches she cited Robin DeRosa's Anthology of Early American Literature, co-authored by her students at Plymouth State University (an updated version edited by Timothy Robbins is being published with support from the Rebus) as well as Julie Ward's Antología abierta de literatura hispana. Look for more ideas from the Rebus publication A Guide to Making Open Textbooks with Students. Apurva has a clear focus on student involvement:
"I think hearing from students is just as important as hearing from subject matter experts– what we try to do a Rebus is to elevate that level of student feedback or student involvement"

Apruva Ashok
We spoke a bit about the uses of Hypothes.is web annotation in open textbooks. Apurva noted how annotation lends itself well to literature textbooks, helping critical reading skills opening up possibilities to explore "what my peers and classmates [are] thinking about as they are reading a particular text. And it really encourages a different kind of conversation in the classroom." Rebus also uses it for their peer review process.
In her support work, Apurva covers the full range of academic disciplines. When asked for what subjects were most challenging, she mentioned a music book, Sight Reading for Guitar that needed to provide special music notations and much audio and video. She also mentioned the challenge of creating visualizations for the University of Houston's OER lab manual for historical geology (you can track it's progress in the Rebus Community).
Apurvs is excited about the growth of the Textbook Success Program, citing 70 graduates since it launched in 2019. There are currently almost 60 people currently enrolled through participating in several cohorts. And these cohorts are now led by TSP alumni. While there is a fee to join the program, you can follow all cohorts in the Rebus Community and all of their resources are available in The Rebus Guide to Publishing Open Textbooks (So Far) shared CC BY.
Apurva cites the collaborative approach at Rebus, "It takes many hands to build a resource that is usable and can meet the needs of all learners" citing the support of her colleagues. And her motivation is made clear in a quote she specifically licensed for us CC-BY:
Isn't that our purpose as educators? To help people lead better lives but also in realizing self worth by living better lives.

Apurva Ashok
Thank you again Apurva for all award winning support work you do and shared with us. And get ready soon to learn the winners of the 2021 OE Awards for Excellence that will be announced September 15.
---
Music for this episode is "Joyful Meeting" by Crowander from the Free Music Archive shared under a Creative Commons BY-NC (Attribution-Non-Commercial 4.0) license.