For our 30th OEG Voices episode we bring you voices from Alberta, Canada, in a podcast about… podcasting. Well, there is much more to the conversation than just a media form.
We hear a student perspective from Nicole Neutzling with a faculty one from Verena Roberts on their experience in a University of Calgary graduate course centered on open education practices. Demonstrating that it was "the course that never ends," they continued as collaborators on a GO-GN fellowship project. For the "Into the Open Podcasts Series," Nicole probed how students perceive the pedagogy and practice of open education via interviews with students and practitioners.
Listen to how the open experiences evolved the student/teacher relationship into an ongoing collaborative one, as Nicole and Verena talk to Paul Stacey and Alan Levine from OEGlobal.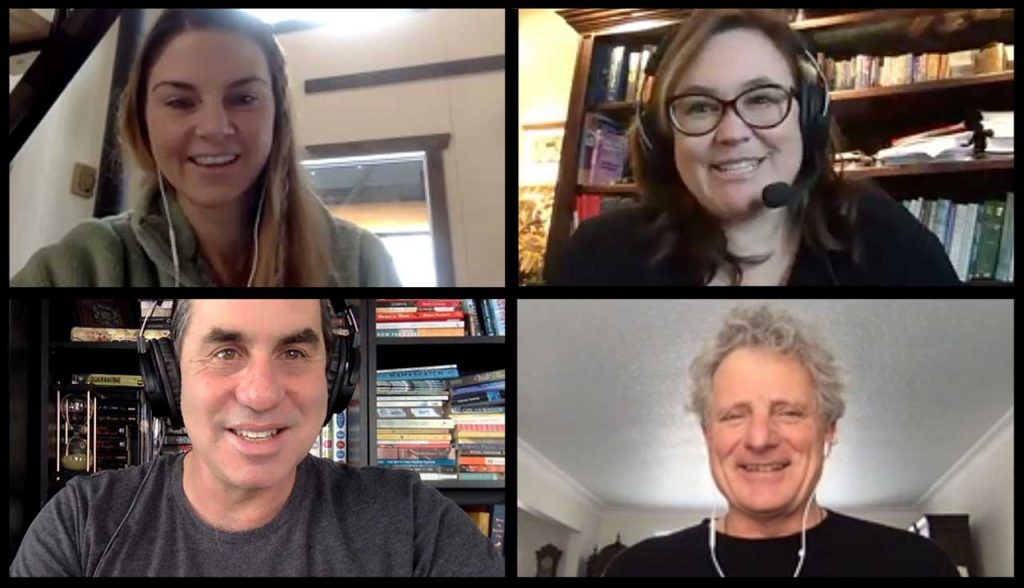 Podcast: Play in new window | Download
Notes and Quotes
In higher education I've never been exposed to a project like this, it was more like my K-12 experiences, inquiry learning and writers workshop I've done with my 10 year old students… and then it clicked, halfway through I said, I know what you are doing. My mind shifted and said like my kids I am okay. I know it's about the process and not the final outcome when I'm teaching. And I felt safe."

Nicole Neutzling
I wanted to figure out how to give these students these choices, that it's up to them, not me, to make the choices… The students start scared, they said tell me what you need, tell me what you want. The hardest thing as an instructor is not telling them… they were so scared even that when I gave an answer they didn't listen. So I had to let them figure it out. As an instructor you suffer through it with them 'I can't build your confidence. I can only give you the opportunities and design for it.'

Verena Roberts
The interest in podcasting came from Nicole's media research proposal that she did not have enough time to fully explore, but she felt like she wanted to "dig more into it" especially after connecting with remote experts in education during the pandemic. The experience in the ethics course project gave her confidence to learn all that is needed to do podcasting.
Because Nicole was a Masters student and GO-GN is designed to support PhD candidate researchers, Verena proposed the podcast project as a joint one, submitted under her name.
The Into the Open Podcast series is available from GO-GN (audio, links, and transcripts) and includes:

Episode 1: Into the Open The Beginnings (Host: Nicole Neutzling, Guests: Verena Roberts & Heather Van Struen)
Episode 2: Navigating Digital Networks (Host: Nicole Neutzling, Guest: Helen DeWaard)
Episode 3: Open for Whom (Host: Nicole Neutzling, Guest: Catherine Cronin)
Episode 4: Sharing is Caring (Host: Nicole Neutzling, Guest: Alan Levine)
Episode 5: Jump in the Water is Warm (Host: Nicole Neutzling, Guest: Joel Templeman)
Episode 6: The Power of Co-Design (Host: Nicole Neutzling, Guest: Barb Brown)
Episode 7: Rolling Snowball (Hosts: Verena Roberts & Heather Van Struen, Guest: Nicole Neutzling)

You should listen to our conversation to understand the "snowball" metaphor!
Listen also to hear how this project changed Nicole's perception and connection with researchers in her field and how to surmount the fear and concern of sharing work openly as a new researcher,
When you are studying and quoting researchers you don't think of them as people… [but] when you go further and you are able to read their work, then connect ,and ask them questions directly, which is what open education and using the open digital networks allows for, it changes how you look at research. There is a person, a human behind this. I know them now, I've talked to them… it's like next level, you know the person and see how much work they've put into it. It changes how you cite and use that information

Nicole Neutzling
I got tons of feedback on how I taught, what my students learned, as Nicole was interviewing all the students… I was taken over the coals (laughs) but that really helps me expand my own practice

Verena Roberts
Working in the open and getting more comfortable navigating open networks has helped me move through that. [It] made me be more willing, brave to put it out there, and to understand that the critique is likely going to push my work and push my knowledge [to] make me better- you can apply that in any aspect of your life.

Nicole Neutzling
As often it is in conversations, there is much more to this discussion than we can extract as notes, so please listen to the episode and share feedback in OEG Connect.
Thank you Nicole and Verena for sharing your voices here.
---
The music for this episode is from the Free Music Archive. Fitting with Verena's travel as a transition to British Columbia, we selected a track called Road Trip by Scott Holmes Music shared under a Creative Commons Attribution-NonCommercial License.
Voice credits for our remix introduction include our two guests! Thanks to the recordings shared by Lori-Beth L, Cynthia O, Shinta H, Alex E, Nicole N, Ajita D, Clint L, Verna R, and Maren D. Explore the remixer and add your voice to our sources.