In another OEG Voices episode recorded during Open Education Week, we bring you the voices of two inspirational leaders, each recognized with a 2021 Individual OE Award for Excellence, Melissa Highton (University of Edinburgh) and Willem van Valkenburg (TU Delft).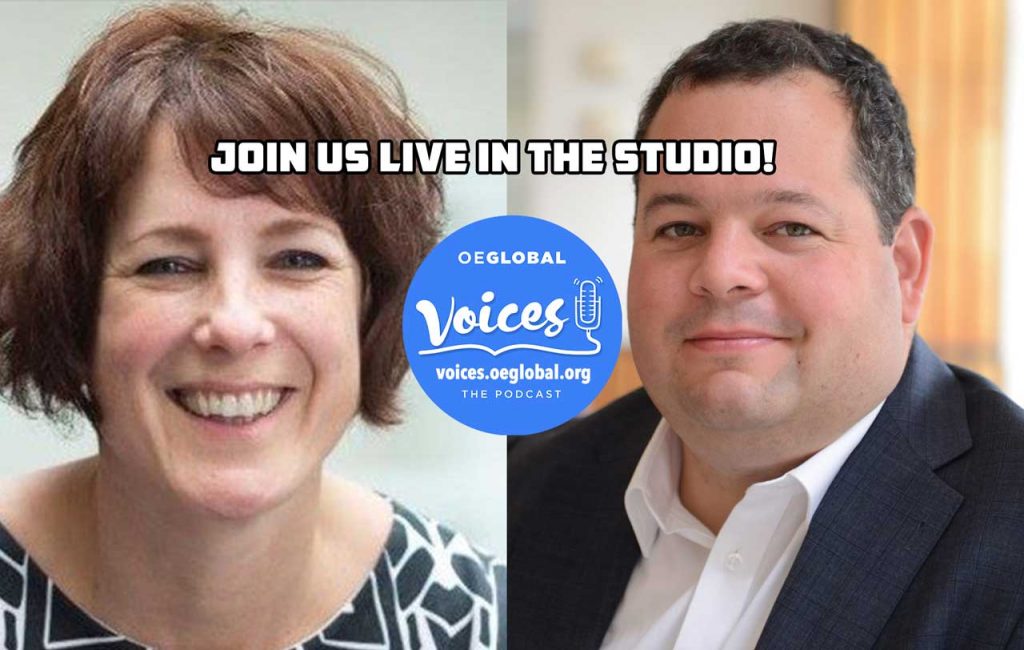 Melissa Highton, Director of Learning, Teaching and Web Services and Assistant Principal Online Learning at the University of Edinburgh, was recognized with the OE Award for Excellence in Leadership for her "significant leadership and longstanding involvement with Open Education. A person who has made significant and clear contributions to the furtherance of the Open Education movement, whose contributions to Open Education have spanned regions and/or had a global impact."
Joining us too was Willem van Valkenburg, Executive Director of the Delft University of Technology (TU Delft) Extension School, and also a former OEGlobal Board member and chair. Willem earned a Presidents Award which is "presented by the Board of Directors to an individual or institution with exceptional dedication, outstanding contribution, and exemplary service to Open Education."
Also participating in the session was Marcela Morales and Paul Stacey from OEGlobal, plus Lena Patterson (Ryerson University, OEGlobal Board chair), and Paolo Corti (METID, Politecnico di Milano).
Podcast: Play in new window | Download
Notes and Quotes
As a highlight of Open Education Week, Melissa noted many sessions highlighting contributions to Wikipedia as well as celebrating International Women's Day.
Willem shared his thoughts back 10 years ago on the first OEWeek when he was an OEGlobal board member. One of his highlights this year was awarding nine TU Delft faculty as Open Education ambassadors.
When discussing changes in the field over the 10 years of Open Education Week, Willem cited the importance of the UNESCO OER Recommendation as a driver for governments to take action. Melissa cited as well the link between Open Education and United Nations Sustainable Development Goals (SDGs) as helping to bring in conversations about sustainable development as well as reuse of educational materials.
For a "secret sauce" of the successes at the University of Edinburgh, Melissa cited that OERs are offered in many places where people need the,, not just a single repository. More importantly, openness is part of the infrastructure- wherever faculty, staff, students generate content, open licensing is part of the process.
We try to lower the barrier and just make it absolutely part of the workflow in every platform and system we have. This has had a huge difference on the volume of digital materials getting open licensed as OERs from the University of Edinburgh

Melissa Highton
Willem agreed, and gives credit to the substantial commitment from the TU Delft executive board and leadership. He says it has helped to have people like himself as drivers, to put Open Education in a spotlight, and like at the University of Edinburgh, his institution has put into place processes that promote openness- e.g. a requirement that all material used in TU Delft MOOCs to be open licensed.
We always focus on unburdening teachers. So it should not take them more effort to make it open than for doing their regular business.

Willem van Valkenburg
Both guests were asked what was unique about the challenges of being a leader in open education. Willem cited the key of developing practices of informal leadership, using the influence you have to create motivation, ambition, and to keep Open Education in a spotlight. He also notes that he does not have a formal title as an Open Education leader, but people look to him for that.
Melissa described that being in leadership you must model practice, e.g. public blogging to share your thinking (see her blog). She noted the importance for colleagues to see the investments being put into the services that enable openness, so it does not look like being an open educator is a burden placed on top of them.
The kind of leadership we have at Edinburgh combines a vision, policy, services to support that policy so it makes it possible for everybody to deliver on that policy,. And we have share examples, more all the time. We celebrate the success of those examples and make them visible, so it does not seem like something you have to do separately or it takes away from your academic career. Also we show how Open Education aligns with other open activities- open source, open knowledge, opena access in libraries, open data, open research- you have to get across all those kinds of open, and make the connections clear.

Melissa Highton
Lena Patterson asked about places where such policies and structures like ones at TU Delft and the University of Edinburgh are not in place, where can people start?
Willem noted that there is still a default mindset to keep things closed in a university. It takes continual asking questions such as "Why do we not open it up?" And also, like Melissa, he cites the importance to "practice what you preach", from as simple as using/attributing open licensed images in presentation slides which he says can make space for questions and opportunities to talk about open.
Melissa keeps in mind the social justice perspective of education:
That's what I thought education was for from the start . I work in some very wealthy, northern institutions where there is a wealth of learning resources, so my starting part was to ask, what can I do to start some redistribution of wealth? It doesn't take away from my institution to share some fraction of our materials in a way that makes it possible for other teachers to use.

Melissa Highton
She also noted the importance of demonstrating the return on investment in open education to the institution. As an example, because the University of Edinburg had already had open licensing in place for so many materials, during the pandemic they were quickly able to repurpose content for front line medical workers to produce the COVID-19 Critical Care: Understanding and Application course hosted on FutureLearn that reached over 50,000 learners.
We shared a question posted earlier by Bea de los Arcos in OEG Connect about addressing feelings of doubt in their efforts. Willem shared that when TU Delft initiated the concept of open courseware a decade ago, he heard much reluctance from many faculty to do what MIT had done. He found though, that on their own, a few faculty were already sharing their materials on various web sites. So it was a matter of finding and encouraging those key people.
"You have to look for and find those interested teachers, young or old, and find them, because they are willing to change, willing to do it. And that makes the work easier and a lot more fun. The rest will follow…

Willem van Valkenburg
Melissa noted as well that there are always educators doing it on their own and wondering, "Am I allowed to do this?" Having an enabling open policy makes that clear. She also described many instances of projects staring with ideas of openness but ended up more in the vein of "openwashing."
Paola Corti asked about encouraging cross-institutional collaboration. Willem stated that open makes it easier. He noted many European projects where funding requires open licensing, for example a current project on Urban Resilience in Delta Regions where the requirements for open has facilitated the bringing of experts together.
For Melissa, a powerful approach is participating with Wikimedia education efforts.
I consider Wikipedia and Wikimedia among the largest open education resources in the world, in so many languages, in so many topics. It's not universities running it. Helping colleagues and students understand how open knowledge is placed on the web, shared, constructed and contested online is an important set of skills that we need to be aware of.

Melissa Highton
As a clear and current example of this, Melissa noted that during Open Education Week and aligning with International Women's Day, Scottish first minister Nicola Sturgeon offered a formal apology to hundreds of Scottish women accused of witchcraft. Melissa shared how the Witches of Scotland campaign for the pardon, made use of a data set on names and locations of historic witches, the Survey of Scottish Witchcraft Database created originally at the University of Edinburgh. The OER team worked to make this part of Wikidata (where it can be queried) that allowed a modern map interface to be developed using that data set.
That public engagement with that dataset was the basis of the campaign to get the pardon. And now the first minster, on International Women's Day, has issued the pardon.

Melissa Highton
When asked to project important developments in the next ten years, Willem forecasted a change of our defaults:
Where I want to go is that Open Education is default. It's not a question of "Do you want to make it open?" the question is "Why do you want to make it closed?"

Willem van Valkenburg
Melissa predicts that virtual worlds will finally, "20 years after Second Life," become viable given the availability of high quality consumer headsets. She suggests we need to be thinking about the open licensing of 3D models, data so these experiences can be shared widely.
And when asked about serendipity in openness, Melissa shared a story of how a photograph of a local mural depicting Frederick Douglass she had posted to Wikipedia under an open license, was discovered and requested by the British Prime Minister to have printed as a gift for the visiting US President Joe Biden.
That photo is now displayed in the White House. For more, see her blog post telling that story.
Yes, there was much covered in this conversation on open education and leadership by two key figures in this movement. We appreciate Willem and Melissa making time to join us for this episode of OEG Voices.
---
Our open licensed music for this episode is from the Free Music Archive, a song called The Open Road by Ketsa licensed under a Creative Commons BY NC-ND license.
The introduction created by the OEG Voices Mixer features the voices of Cynthia O, Una D, Alex E, Rajiv J, Kristin H, Ajita D, Clint L, Shannon S, Lena P, Lori-Beth L, Isla H-F, and Maren D (learn how to add your voice to the mix).