En este episodio conversamos con el equipo creador del Micro MOOC de Recursos Educativos Abiertos en español. Nos acompañan desde Chile Katherine Muñoz y Cristóbal Nova, y desde el Estado de México Gloria Tenorio.
In this episode, recorded in Spanish, we meet with the creators of the MicroMOOC of Open Educational Resources in Spanish. Tuning in from Chile, Katherine Muñoz and Cristóbal Nova, and from Estado de Mexico Gloria Tenorio (scroll below for a summary in English).
Este pequeño equipo de tres, binacional y multidisciplinario, nos muestra con ejemplo lo que se puede lograr con anhelo, creatividad y perseverancia. Cada uno de ellos desde sus contextos laborales, aportan sus habilidades y conocimiento para llevar a cabo el desarrollo e implementación del "MicroMOOC de Recursos Educativos Abiertos" en español.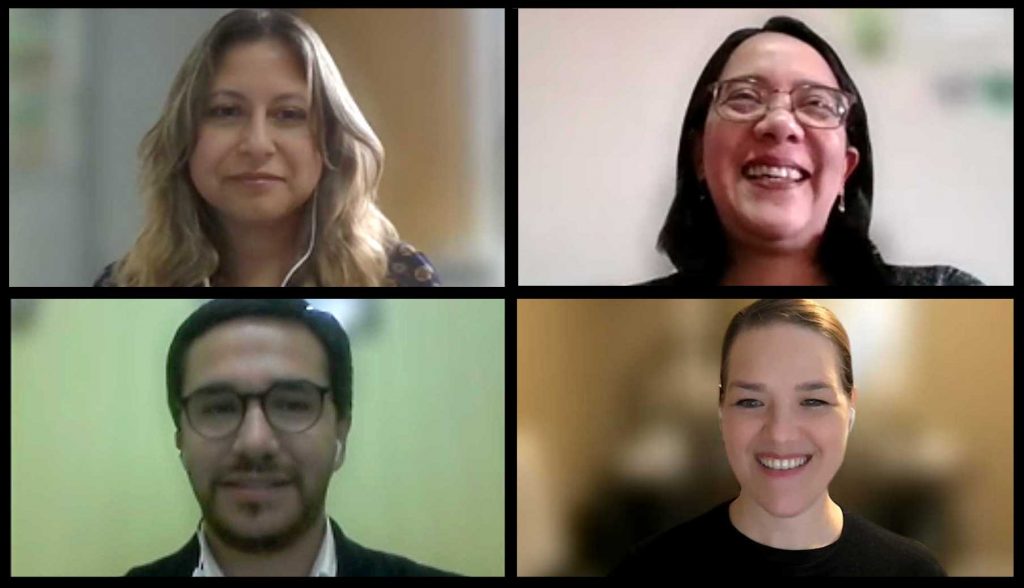 Podcast: Play in new window | Download
Por un lado Gloria, dedicada a estudiar y analizar el alcance que puede tener la tecnología aplicada en la educación. Siempre buscando facilitar el acceso a un mayor número de personas, independientemente de su estatus social, económico, nivel de conocimiento o cualquier otro tipo de barrera que las personas puedan enfrentar. Por otro lado Cristóbal, dedicado a la búsqueda, la investigación y promoción de recursos educativos abiertos. Él enfatiza también la relevancia de los Objetivos de Desarrollo Sostenible de la UNESCO, principalmente el objetivo número cuatro, enfocado a una educación de calidad, gratuita y equitativa para todos. Por último, Katherine quien se desempeña en un centro de recursos de aprendizaje y trabaja con diferentes redes de comunicación. Ella resalta la importancia de democratizar el conocimiento utilizando todos los medios de comunicación disponibles en la web y dar a conocer las oportunidades que la educación abierta brinda a todos aquellos que aún desconocen del tema. Ofrecer respuestas a preguntas como: ¿qué es abierto?, ¿qué es un REA?, ¿cómo comparto mi trabajo?, ¿cómo puedo hacer uso del trabajo de otros?, ¿cómo aplicar licencias abiertas?
La conversación nos lleva a dialogar sobre la creación y desarrollo del MicroMOOC. Todo empieza con una idea que surge en la Estancia Internacional de la UNESCO/ICDE Movimiento Educativo Abierto en el año 2019. Durante la estancia desarrollan como equipo la propuesta de un REA en formato de curso para la producción de recursos educativos abiertos. El proyecto se implementó en la plataforma Moodle con alcance en México y Chile. Se produjeron 51 REAs creados por diferentes instituciones de ambos países, con gran aceptación. Esta experiencia cimienta el sueño de seguir adelante por el camino de la educación abierta creando y compartiendo recursos.
El equipo se embarca a seguir proyectando y ampliando horizontes y deciden postularse para una beca en el "Open Education for a Better World Mentoring Program" (OE4BW) con la propuesta de un MicroMOOC para Recursos Educativos Abiertos en español. Un micro-mooc es el micro formato de un curso masivo en línea de libre acceso, en este caso implementado a través de redes sociales -Twitter, LinkedIn y Facebook.
Hoy en día el mundo se mueve a través de estas redes sociales, entonces por qué no ocuparlas con una finalidad educativa, sobre todo por ser gratuitas y de libre acceso. La posibilidad nos llamaba mucho la atención, pero desconocíamos del tema. Queríamos aprender cómo hacer un micro MOOC a través de redes sociales. En ese sentido, la mentoría de OE4BW fue muy importante para poder llegar a buen puerto y obtener los resultados que obtuvimos.

– Katherine Muñoz
Su propuesta fue uno de los primeros proyectos en español dentro de la red del OE4BW.  A manera de símbolo nombran el equipo "REA Hispano" y asignan el lema "Abriendo cerrojos". Sin duda sus pasos abrieron camino para la comunidad hispanoparlante dejando testimonio de su trabajo como inspiración para otros.  Con el apoyo de su mentora Dennise López fueron resolviendo interrogantes y dudas, sobrellevando incluso limitantes de idioma.  Aprenden a utilizar las redes sociales a su favor y el cómo personalizar cada una de ellas para obtener un mayor impacto. Identifican que el público de Twitter no es el público de LinkedIn ni de Facebook, por lo que adaptan el mensaje para optimizar su recepción.
El resultado de la implementación del MicroMOOC de REA en español superó sus expectativas reportando un alcance de 9,000 personas al cierre de la mentoría y más de 10,000 al momento de esta conversación. Además, el equipo se lleva un gran aprendizaje en cómo llevar a cabo un proyecto como este y abre su panorama a futuras iniciativas que previamente consideraban difíciles o inalcanzables.
Más información
Summary in English
In this episode we meet with the creators of the MicroMOOC of Open Educational Resources in Spanish. Tuning in from Chile, Katherine Muñoz and Cristóbal Nova, and from Estado de Mexico Gloria Tenorio.
This small team of three, binational and multidisciplinary, set an example of what can be achieved with determination, creativity, and perseverance. Each of them from their work environment, contribute their skills and knowledge to carry out the development and implementation of the "MicroMOOC of Open Educational Resources" in Spanish.
It all started in 2019 during the UNESCO/ICDE Open Educational Movement International Stay where they worked together as a team for the first time. The project they worked on during the Stay was the design of a course to produce open educational resources. The course was implemented in Moodle and launched in Mexico and Chile. Different institutions in both countries created 51 open educational resources with great success. This experience strengthened their dream to continue in the path of open education by creating and sharing more OER.
As a result, the team applied for a scholarship in the Open Education for a Better World Mentoring Program (OE4BW) with the proposal of a MicroMOOC for Open Educational Resources in Spanish using social networks -Twitter, LinkedIn and Facebook.
Today the world moves through these social networks, so why not use them for educational purposes, especially because they are free and freely accessible. The possibility caught our attention, but we were unaware of the subject. We wanted to learn how to make a microMOOC through social networks. The mentoring program of OE4BW guided us through the process and helped us obtain the great results we did.

Katherine Muñoz
The "MicroMOOC for Open Educational Resources" in Spanish was one of the first projects in Spanish in the OE4BW network. In representation, they named the team "REA Hispano" (Hispanic OER) with the phrase "Abriendo Cerrojos" (Opening Locks). Their actions helped pave the way for the Spanish-speaking community leaving testimony of their work as an inspiration for others. They learned to use social networks for educational purposes and how to personalize each one of them to obtain better results. They identified the differences between Twitter, LinkedIn and Facebook, and adapted the length and content of the messages to better suit each audience. 
The outcome of the implementation of the MicroMOOC for OER in Spanish exceeded everyone's expectations, reporting 9,000 participants at the end of the mentoring program and more than 10,000 at the time of this conversation. The team did not only learn about how to carry out a project like this, the experience opened their perspective on possible future initiatives that they previously considered difficult or unattainable.
---
La música utilizada en este episodio fue "Joyful Meeting" de Crowander del Free Music Archive compartido bajo una licencia Creative Commons BY-NC (Attribution-Non-Commercial 4.0).
La introducción creada por OEG Voices Mixer presenta las voces de Marcela M, Gloria T, y Jackie B (aprende cómo agregar tu voz a la mezcla).