Do you have ideas who or what deserves 2022 Open Education Awards for Excellence? This is the time for action as the deadline for nominations is July 31. As some inspiration we are continuing here to bring you the voices of previous winners in a conversational format, featuring groups of winners.
For this episode, the pairing of guest is natural, since they represent two different efforts from The Open University that were recognized with a 2021 OE Award. Joining us in the studio were Patrina Law, representing the Open Resilience Award for OpenLearn's Response to the Pandemic and Andy Lane, representing the Transformation by Innovation in Distance Education (TIDE) project that was recognized in the Open Collaboration category.
Also in the conversation was Marcela Morales and Alan Levine from OE Global.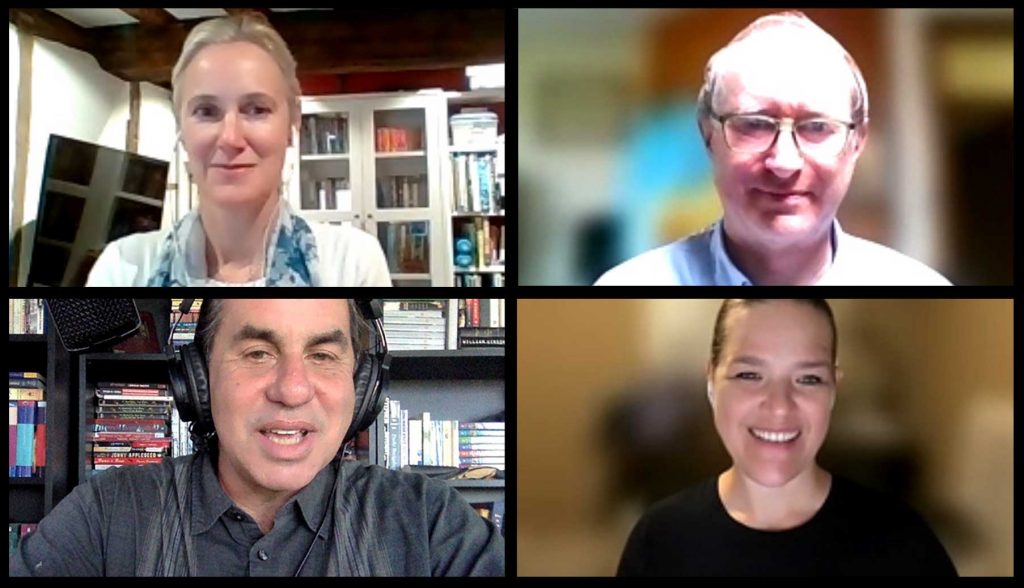 More connections emerged in this conversation as Andy was one of the founding Directors of OpenLearn that Patrina now heads up. The TIDE Project Andy shared made use of the OpenLearn Create platform the content used with colleagues in Myanmar. Both of these long time open educators describe how they deftly adapted to the challenges of the pandemic. More than that, you will hear clearly how the Open University supports a broad range of educational opportunities that extend far beyond the traditional university scope as well as addressing the needs to improve society.
We hope you enjoy this conversation as much as we did, and also that it just might inspire you to submit a nomination for the new round of OE Awards.
Podcast: Play in new window | Download
Links Mentioned
Quotes
We're pretty much proud of the fact that the University supports our effort to create open education resources… people want to work with us. I'm in a very lucky position to have staff who are keen to contribute to the platform and also a fantastic university of academics who want to write and work with us."

Patrina Law
They weren't thinking about how to make the whole educational experience more rewarding for the student, for getting them ready to be good citizens and getting employment.

Andy Lane
Our workforce was taken off campus just like everybody else. People were trying to work from home with dogs, and cats, and children and homeschool while managing a workload that frankly went through the roof. We have a very strong team and I'm very lucky that everyone came together and did produced all the things they were asked to do. There was very little desire to say no to anyone

Patrina Law
With an international project of this scope and the SPHEIR Program under which it came, you have to base it on a theory of change. Also it is a key to understanding developmental intervention. This is why we have the strand of working with university staff, as well as the portions on change management… You really have to try to work at all those different levels if you are going to truly get some transformation and change across the system.

Andy Lane
A lot of this has really focused our minds on how we might think in the future how we might translate open content into other languages for the people who need it the most, particularly our current refugee crisis and how we might address their needs in the future. The lessons that are coming out of it are affecting how we think about our strategy now, very much valuing and putting emphasis on employability content and really thinking about our global audience as well. It's all very well delivering English OER for people who speak English, but what about people who can't and need it most? It was a game changer for us to think about how we deliver things."

Patrina Law
---
Our open licensed music for this episode is from the Free Music Archive, a song called The Mage by Ketsa licensed under a Creative Commons BY NC-ND license.
The introduction was created with the OEG Voices Mixer features voices of Andy L, Lori-Beth L, Isla H-F, Patrina L, Lena P, Rajiv J, Clint L, Ajita D, Judith S, Verna R, Cynthia O, Jöran M-M, Shinta H, Kevin H, and Patrina L (learn how to add your voice to the mix).