As part of our putting the podcast on the road series we recorded this episode at the podcast studio of Terry Greene, Senior E-Learning Designer at Trent University Online in Peterborough, Ontario. Terry is host of Gettin' Air "The Open Pedagogy Podcast" that each week features a conversation with practitioners of "technology-enabled and open learning practices in Post-Secondary Education."
Terry describes himself as an "Enthusiast for digital, open pedagogy." In addition to his work at Trent University, he is teaching an Instructional Design course at Lambton College.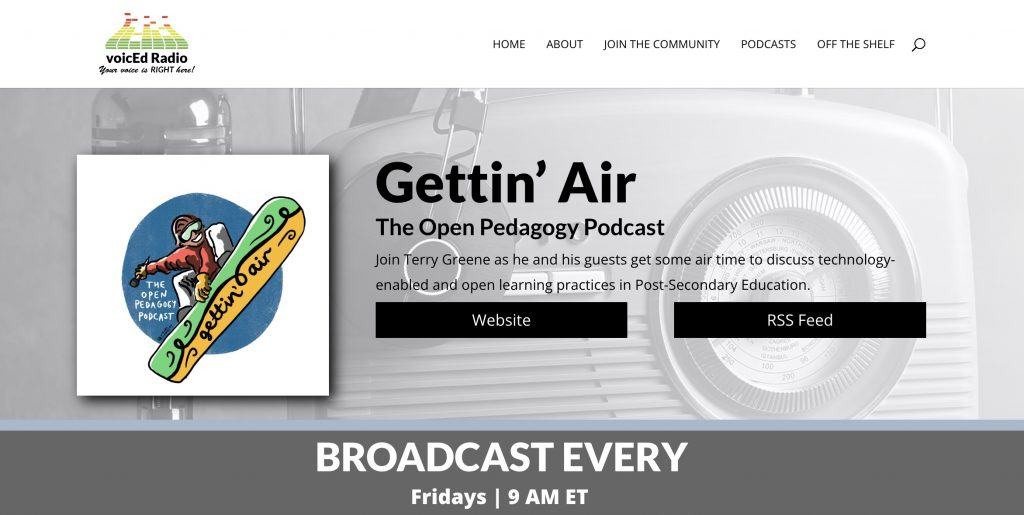 The Gettin' Air show was an inspiration for OEG Voices and Terry has been part of the OE Global circle, having earned a 2019 OE Award for Excellence for his Open Learning Patchbook projects and also a previous presenter at OE Global conferences. I had collaborated with Terry on the eCampusOntario Ontario Extend (for faculty) which was an impetus for Liberated Learners ("how to learn with style") a multi institution, student led project the Terry organized. We will talk much about this fantastic project in the show.
Mainly this was a chance to turn the microphone tables on terry and interview him on his own show. This episode will also appear soon as a Gettin' Air episode.
Let's get some air with Terry. And we were joined by his adorable daughter who herself attended the OEGlobal19 conference in Milan.
Podcast: Play in new window | Download
Web Sites Links and Quotes for Episode 41
"[Course building at Trent University] is the opportunity for many people to work on them and gave a lot of people the chance to taste the creation of open educational resources. Then we are proud of it, we promote it in webinars. Every time we build a course we are trying to infuse the use of OER that are out there."

Terry Greene on his work at Trent Online
"For anyone listening I think it's great, I hope they get to know all these people, take these great ideas and run with them, and hopefully get some inspiration from the work all these people are doing"

Terry Greene on Gettin' Air
Ontario Extend was designed for empowering educators to teach in modern digital age. Lena Patterson, then project director at eCampusOntario always said we should do this for students some day.. This was one of the projects we got to do this under an eCampusOntario grant, with involvement from seven universities– it is a mirror image of Extend. Because the original was 'by educators for educators' we wanted to re-create that having it 'by learners for learners.' We got to hire students as co-designers. We used Wicked Problem to allow students to identify the content to be included in the modules all that help students to become more independent online learners.

Terry Greene on the Liberated Learner Project
"I hope we can build real robust online options that will add to the flexibility of the experience… I hope she will have the choice to do it in a high quality environment in person or off or both, and where there's less of a stigma about online being lower quality."

Terry Greene on what he hopes his daughter's university experience will be like.
---
Since Terry's theme song is licensed for use only on VoiceEd radio, we found our own open licensed music for this episode in the Free Music Archive, a track called
Free As Air [Original mix] by mildtape & Ebsa licensed under a Creative Commons Attribution-NonCommercial-NoDerivatives (aka Music Sharing) 3.0 International License.
The Gettin' Air logo was created by Bryan Mathers / Visual Thinkery licensed likely CC BY-NC and hopefully used with permission by Terry Greene.
The introduction was created with the OEG Voices Mixer featuring voices of Gardner C, Terry G, Maren D, Lena P, Nicole N, Judith S, Ajita D, Jöran M-M, Werner W, Lori-Beth L, and Clint L (learn how to add your voice to the mix).