Our latest episode brings you a conversation with West Hills College Lemoore professors Vera Kennedy and Rowena Bermio sharing the motivation for, the making of, and the teaching with their co-authored open textbook, Our Voices, An Ethnic Studies Primer.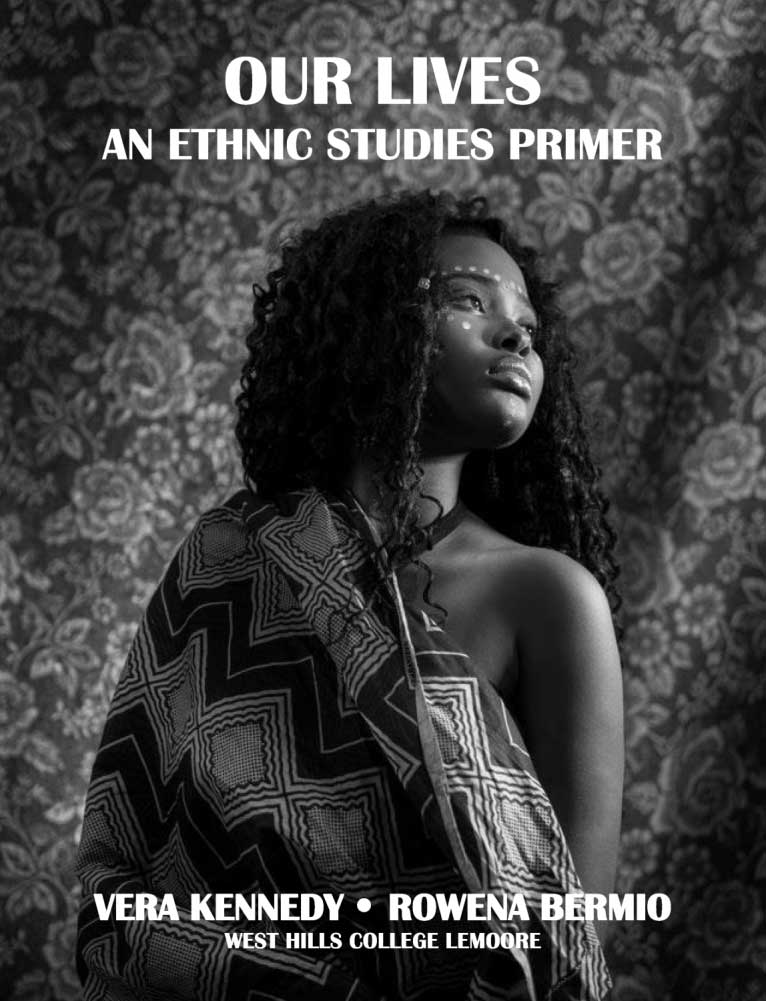 The need for this textbook started with California State University (CSU) Ethnic Studies graduation requirement requiring students starting in Fall of 2021 complete a three-unit Ethnic Studies course in General Education to gain deeper understanding and appreciation of the contributions of traditional racial-ethnic groups.
As one of the 116 California community colleges offering CSU transfer pathways. West Hills College Lemoore (WHCL) not only identified the need to offer required Ethnic studies courses, but as a leader and pioneer in OER development (OER is part of the board of trustee's policy), WHCL saw the opportunity to create an open resource for teaching a variety of related courses. Their Social Justice and Equity task force "recognized that they had the scholarly expertise, faculty interest, and lived experiences to develop an open educational resource (OER) to share the untold histories of people who built this country and fulfill the CSU requirement."
Supported by the CC-ECHO project (California Consortium for Equitable Change in Hispanic Serving Institutions Open Educational Resources), Vera Kennedy (Sociology & Ethnic Studies professor) and Rowena Bermio (History & Ethnic Studies professor) were tapped to take on the research and writing of the ethnic studies open textbook (they both also teach related courses at CSU, Fresno State).
Learn more about the project in Our Lives: An Ethnic Studies Primer Case Study published on the CCCOER web site.
One of the most valuable features, reflecting the theme of "our voices", is the interspersing in the book's history and conceptual chapters, the yellow boxes of biographical reflections, collected from WHCL faculty and staff.
For this episode of OEG Voices we bring to you the "how a textbook is made" as told by Vera and Rowena, including the importance of an effective peer review process, and also how they incorporate Our Voices into their own teaching. Joining them was Alan Levine and Una Daly from OEGlobal.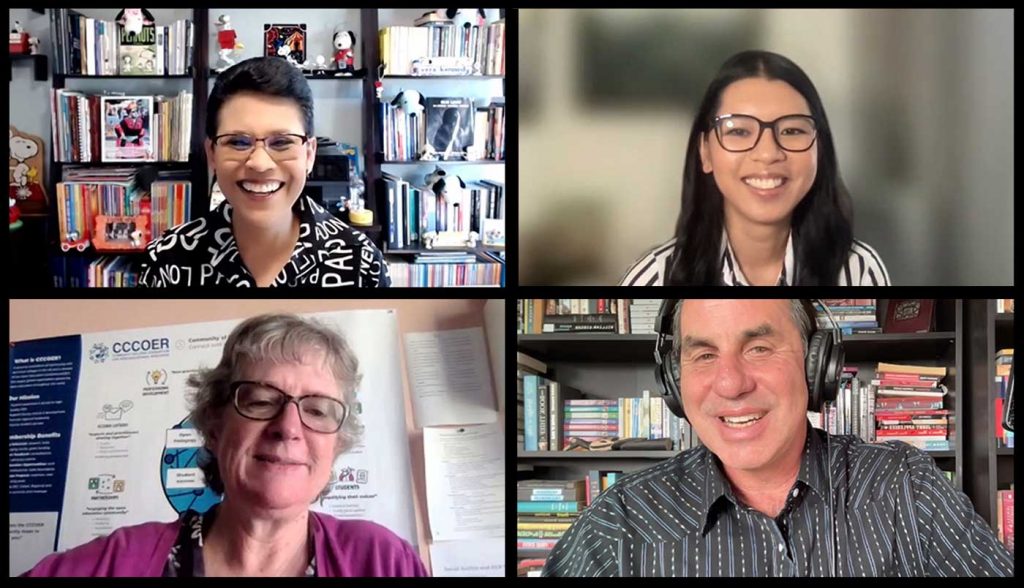 Podcast: Play in new window | Download
Web Sites Links and Quotes for Episode 42
The history of this country is all of ours and we are thinking about that type of inclusiveness. It comes from those perspectives of people who are often left out of textbooks.

Rowena Bermio
I have authored a commercial textbook, but I prefer OER, because it is a living document. Even as we publish and release something and use it in the classroom, it evolves constantly

Vera Kennedy
Our Lives: An Ethnic Studies Primer (licensed CC BY-NC)
We have a pretty progressive faculty. Because we are a small campus, we are a family. we talk a lot, we share a lot, we like to be in each other's spaces as far as what everyone is doing with pedagogy. Once some of us got into it [OER], it spread- we saw the value for our students. We are a Zero Textbook Cost leader in California and we are helping to train other faculty in the state.

Vera Kennedy on OER at West Hills College Lemoore
We asked our peer reviewers to do something different. Typically a reviewer will get a book or a course, they get a rubric, they rate it, and send it back to you. We did not want that. We wanted a dialogue with our reviewers, which was done as an inservice two day meeting . That was most effective for us. Because not only could we hear it, we could ask questions, It helped us brainstorm and gave us new ideas on how to make revisions.

As authors too, we wanted to know how it was going to be received by a white voice. We wanted that feedback- like, are we pushing too far, are we not pushing enough? And how would we manage it? It did not mean we were not going to push!

Vera Kennedy on the peer review process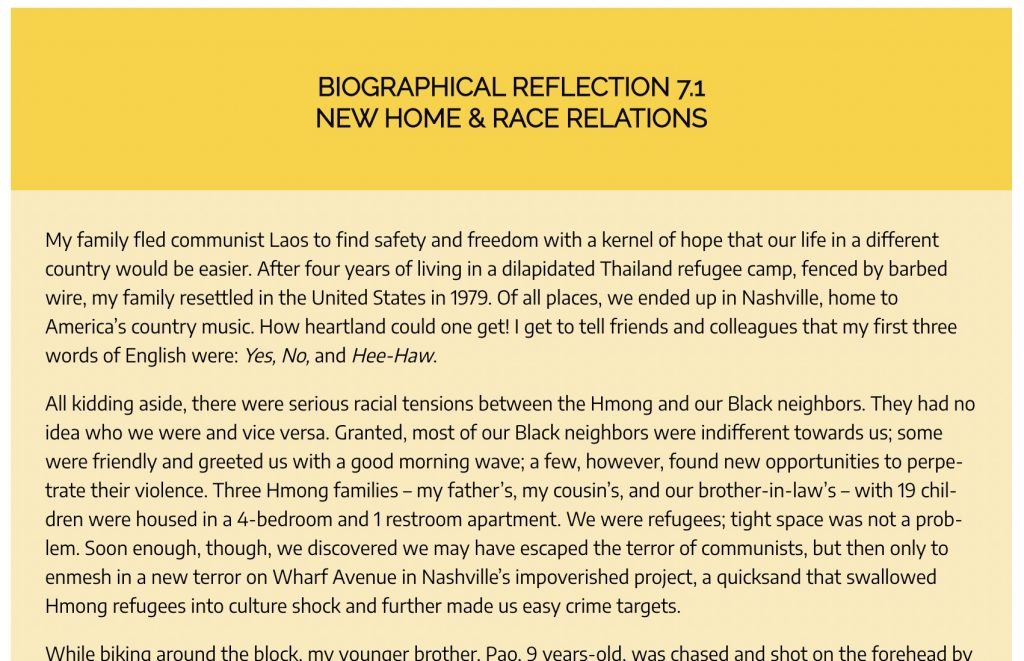 Students were so grateful of hearing these voices. They particularly enjoyed hearing the biographical stories.

….

One of things I have been doing, and this was a production of Vera's imagination, is using the biographical reflection. I took that and really embraced it in my teaching,. I have been doing a lot of ungrading using the reflective exercises.

Rowena Bermio
I try to create experiences through activities for my students to do, and then they reflect on them, sometimes together, sometimes individually, sometimes in a class discussion. But it's always about them taking ownership of their learning from me.

Vera Kennedy
Thank you Vera and Rowena for sharing your voices about Our Voices.
---
Our open licensed music for this episode is from the Free Music Archive, a track called asynchrony of life by plastik joy licensed under a Attribution-NonCommercial-NoDerivatives (aka Music Sharing) 3.0 International License.
The introduction created with the OEG Voices Mixer features voices of Clint L, Judith S, Patrina L, Gardner C, Ajita D, Maren D, Rowena B, Shannon S, Vera K, Rajiv J, and Jöran M-M (learn how to add your voice to the mix).