As another special recording session for Open Education Week, we opened up the studio for anyone interested to be there for our conversation with Delmar Larsen, Director of the LibreTexts project who also manages to be a full time professor of Chemistry at the University of California, Davis.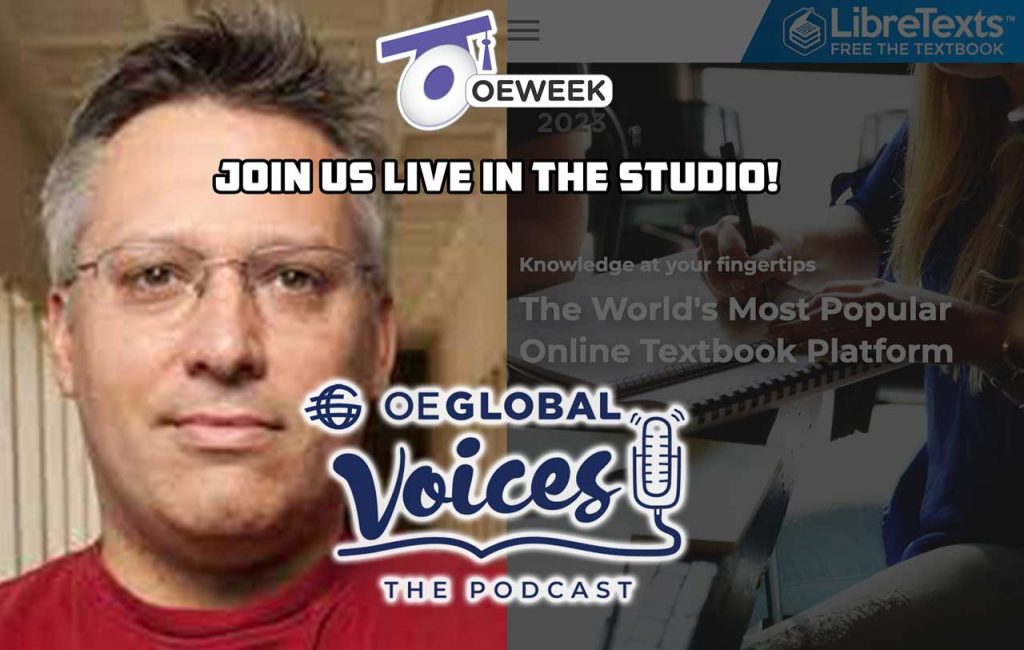 The LibreTexts team offered so many Open Education Week events we struggled to count them (23?) so we appreciated it even more that Delmar agreed to spend some time with us Monday, March 6. This was also our opportunity to highlight the sweep of two 2022 OE Awards for Excellence given to LibreTexts, in both the Open Curation and the Open Infrastructure categories.
Listen in to learn how Delmar's childhood experiences led to a love of Chemistry and also what propelled him to take on an open pedagogy effort using a wiki-based approach to build his first open chemistry textbook. We hear first hand how it grew from there into what is now known as the "LibreVerse" including libraries for multiple disciplines, integration of a variety of open platforms for homework and adaptive learning practices, plus a machine language approach for making open textbooks available in a wide range of languages. And hear about the news of the newest grants that will support the next evolution of the ADAPT platform.
And finally, hear Delmar describe his vision of an effective ecosystem of learning resources that make his vision of "world domination" (in the best ways)! Sit down for an enjoyable conversation with Delmar, recorded during Open Education Week 2023.

Podcast: Play in new window | Download
References and Quotes for Episode 52
But the one thing that I picked up on is I have loads and loads of students. My large general chemistry class is 500 students . So if I were to motivate just 20%, 10% of those students in order to start writing and contributing to it. And I used a wiki based approach, which is the ideal technology for large scale collaborative construction efforts to do exactly what I want to do.

I can do that. So we started to do that. So I did what's now referred to as open pedagogy. In fact, we've used 5000 to 10,000 students that have contributed to the LibreTexts Project over over the last 15 years.

Delmar Larsen on his start in open publishing
We're in academia. We recognize that's the start of the issue. That's not the end game and we need to go through curation efforts. We need to constantly update. We need to constantly curate because there everything needs to be updated and what one person thinks is the right level for the quality of a book, it could be very different from a different person who has the same book. It's a constant active thing. And because we are subject matter experts, not in every subject matter of course, but we have lots of people on our team in order to do that, we're constantly updating and curating our content.

And that right there distinguishes us from other platforms that essentially that's not their game. Their game is, here it is, you use it, give us the money, and we're done. And actually the hard part is the curation effort.

Delmar Larsen
We built an infrastructure that we called ADAPT because it has, I would say simple adaptive learning capabilities.

It doesn't have a black box engine. It has a, what I refer to as a choose your own adventure story which is a decision tree approach that students get to take agency in order to guide their education, which I like a lot more than spoon feeding from a black box.

The intent is that instead of giving individual questions, students get a question. If they get wrong, they can go into a a remediation tree in order to help guide them in terms of understanding what's necessary, what are the skills that they need in order to be successful with that question, and then they can decide which of the branches they want to go down. It helps to build metacognition, it helps to build self-efficacy. It builds agency– I like students to be involved in their education instead of just being again, spoon-fed..

Delmar Larsen on the ADAPT system
However, last year, two AI-based machine translation algorithms have gotten pretty good. Are they perfect? No, they are not. But they are pretty good. And the argument that we had here is it better to have a hundred thousand pages in a new language that's 95% good versus 20 pages that are perfect in that language.

And the answer by far is it's much better to have many more pages that are able to help that students can actually get through a little bit of the clunkiness in order to be able to advance that. We've been eyeing machine translation for a while. But the Ukraine situation provided us with an opportunity, although it was, obviously a very bad situation over there in order to couple with Amazon. So Amazon had a machine translation infrastructure and then coupled with MindTouch or NICE CXOne, the company that actually hosts our central libraries in order to be able to make a new library that was completely machine translated. And we did that in Ukrainian.

Delmar Larsen on offering multilingual libraries
Then I'll go back to what people don't like me saying as "world domination:. So there's still a lot of global need for OER out there. There's a lot of OER in English, but there's less in many of the other languages, and there's a need in order to be able to address that.

Delmar Larsen on his "dream"
---
Our open licensed music for this episode is a track called It's Ok, We Have Chemistry by Dr. Wylie is licensed under a Attribution-Noncommercial-Share Alike 3.0 License found, like most of our intro music, in the Free Music Archive (see our full FMA playlist).
The introduction created with the OEG Voices Mixer features voices of. Jonathan P, Rajiv J, Ajita D, Lisa Y, Judith S, Patrina L, Shinta H, Cynthia O, Kevin H, Gardner C, Alex E, Lorna C, and Bonni S (learn how to add your voice to the mix).
This was another episode we used Descript for transcribing and editing audio that has enhanced our ability to edit and transcribe our show.