This episode brings you the voices of two California Community College faculty sharing their experiences developing OERs implementing a Diversity, Equity, and Inclusion framework for use in high enrollment (and high impact) courses. These projects were completed with the support of CC ECHO (California Consortium for Equitable Change in Hispanic Serving Institutions Open Educational Resources).
Speaking of echoes, this follows up nicely from another CC ECHO project we shared in October, 2022– OEG Voices 042: Vera Kennedy and Rowena Bermio on the Ethnic Studies Primer Open Textbook.
In our current episode will hear from Susan Rahman, professor of Sociology, Psychology and Behavioral Sciences at the College of Marin about two open textbooks she co-created with her students– A People's History of Structural Racism in Academia From A(dministration of Justice) to Z(oology) and Sexuality, the Self, and Society. It was very fitting too to have on a podcast, Brian Barrick, who teaches Political Science at Los Angeles Harbor College, as his project was creating an accessible version of American Government OpenStax textbook as an audiobook. Plus we also hear from CC ECHO Project manager Kelsey Smith at West Hills College Lemoore about the project as a whole and what it has been able to achieve.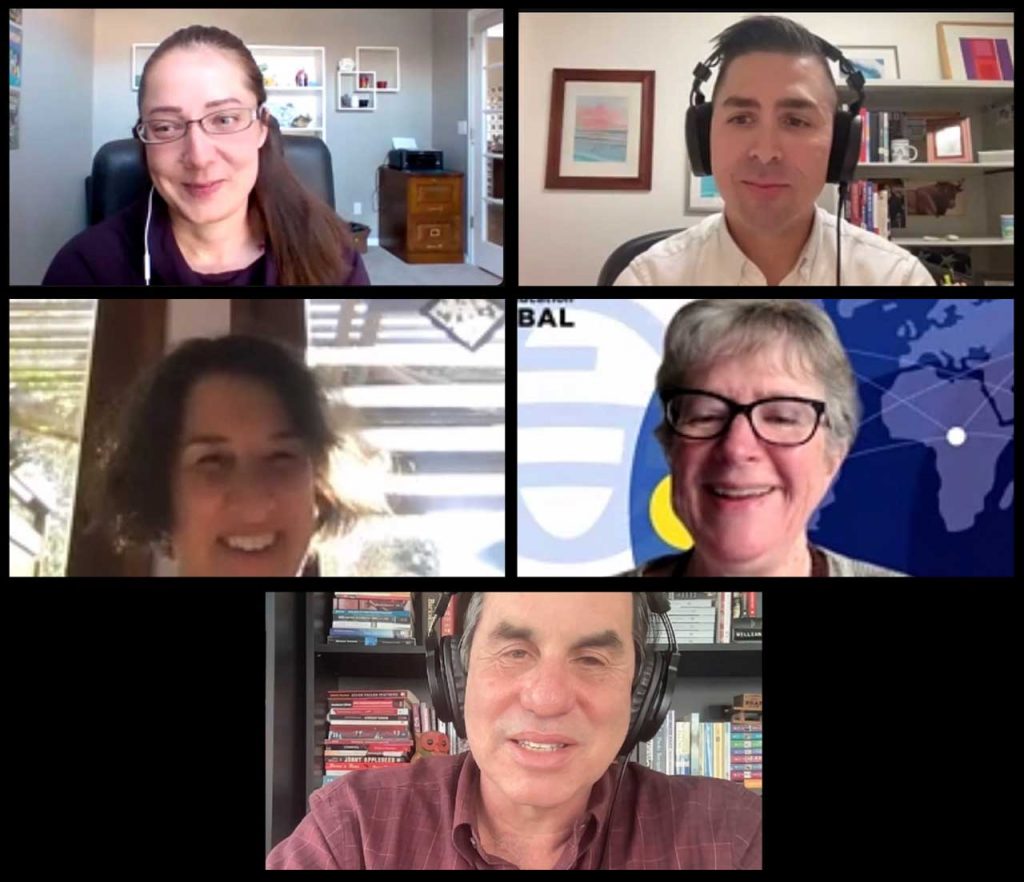 Podcast: Play in new window | Download
References and Quotes for Episode 53
CC ECHO is an initiative, funded by the U.S. Department of Education Open Textbook Pilot Program, by which four California community colleges promote textbook affordability, student success, and diversity, equity, and inclusion to benefit all students. The program provides professional development for integrating DEI in OER and curriculum to create culturally relevant OER through a peer-reviewed process for twenty high-enrolled courses that have limited or no OER available.

CC ECHO web site
Definitely I think it was more difficult than we thought it was going to be. When we originally put in the proposal for the grant, the gaps were totally different or the gaps in OER were totally different than they are now. As there's lots of OER initiatives and grants out there producing work, and things were ever evolving.

The best way we could think to do that was a gap analysis between the four colleges in CC ECHO. At the beginning of every year, we would ask the leads at each college, which courses are your high enrolled and which ones are still aren't using OER and then we would go from there, see if we can find interested faculty on our campuses.

Kelsey Smith on how CC ECHO subject areas were selected
CC ECHO California Consortium for Equitable Change in Hispanic-Serving Institutions Open Educational Resources
I think the idea behind using students was something that I always felt like important in terms of the ways in which OER is, by the people, for the people…. It makes it more relevant for students to be involved.

There's so many learning outcomes that come of them actually being contributors to the work rather than just passive takers of the knowledge. For me it was really part of my teaching, but it also became a way in which students could branch out, get some really valuable experience in terms of being published authors at the community college level.

It's not very typical that they get that access at such an early point in their career.

Susan Rahman on open pedagogy approach of students as OER authors
Susan Rahman (College of Marin profile)
CC Echo Projects

A People's History of Structural Racism in Academia From A(dministration of Justice) to Z(oology) (PDF) (LibreTexts)
Sexuality, the Self, and Society (LibreTexts)
I teach Political Science, so one of the most popular OER texts for PolySci is definitely the OpenStax American Government text.

I've been using it for several years. We're on the third edition now and I started using it back on the second edition. And I really like it because I always know that my students have access to the text. Before that, I was assigning a book that was about a hundred dollars and oftentimes students wouldn't get their financial aid on time.

And so I really like this text. The project that I did was essentially to take that text and to adapt it as an audiobook. We've released that on a number of different platforms. As of today, there are 17 chapters that have been recorded totalling about 30 hours of free audio that students can use.

…

And the way that I was able to connect with CC ECHO was years ago when I was working at East LA College, another college here in our district, Una and Kelsey came to my campus and did what is to this day, the best training I've ever been to.

It was a two day OER bootcamp and we sat in the library there for two days all day. And what I really liked about the training was when I walked away from that, I had a full game plan to go into the next semester and use OER so it was like intro to OER but also here are all of the resources, practical tips that you can use.

Brian Barrick on the American Government audiobook project
[We] have several projects that are in the Geosciences right now, which is a gap. There was a lot of OER out there for the three main Geography courses and a couple of Geology ones, but they're getting a little old. And I know a lot of colleges, at least California community colleges, want your textbook to be within five years. So fairly new. One of them that we've been missing and it's exciting for California people is :California Geology"… It'll be all interactive with like virtual field trips and all of this stuff.

…

Since we saved some money on some travel because COVID was still going on and we weren't able to travel as much as we thought we were going to, we dedicated that money to more projects. Our goal was 20 OER and I think we're going to be closer to 26 by the time the grant is over.

Kelsey Smith on latest CC ECHO
---
Our open licensed music for this episode is a track called New World Echo (ID 1805) by Lobo Loco licensed under a Attribution-NonCommercial-ShareAlike 4.0 International License, and like most of our intro music, in the Free Music Archive (see our full FMA playlist).
The introduction was created with the OEG Voices Mixer featuring the voices of Maren D, Alan L, Kristin H, Cynthia O, Rowena B, Lori-Beth L, Isla H-F, Terry G, Rajiv J, Kevin H, Lisa Y, Jöran M-M, and Vera K — five of those voices are from CCCOER! (learn how to add your voice to the mix).
This was another episode we used Descript for transcribing and editing audio that has greatly enhanced our ability to edit and transcribe our show.