For our first episode of 2022 we brought the podcast studio virtually to Cardiff, Wales, to chat with Maren Deepwell, CEO of the Association for Learning Technology (ALT). She is now in her 10th year in that leadership role.
While a UK-based organization, ALT's events and programs draw in educators from around the the world. The ALT perspective on open education complements us at OEGlobal, so for a look at 2022 we set up this conversation as a followup to episode 008 from 2021.
Maren opened with her wish for some hopefulness in 2022.

Listen in to our conversation:
Podcast: Play in new window | Download
Some of the topics covered include:
The plans for the April 26-28 OER22 Conference, ALT's annual conference for Open Education research, practice and policy, include a mixed mode format of in-person activities in London on day 1, asynchronous online activities on day 2, and live online events on day 3. The Call for Proposals is open and Maren shared more about the format and the thoughts behind its planning.
The co-chair for organizing OER22 is the Global OER Graduate Network (GO-GN) so expect a conference focus on graduate students, open education research, and issues of equity, care, and inclusion.

Oh, and also expect to see penguins, their delightful mascot designed by Bryan Mathers.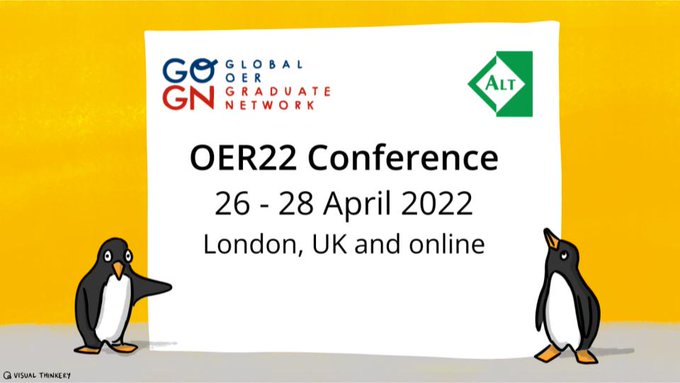 Maren cited an interest from ALT and the OER22 conference this year to improve their influence on policy, especially on open textbooks– "It's an opportunity for us this year to leverage our conference to influence policy" as well as to take on what has been achieved with the Open Education Covid Pledge.
I have a post-pandemic vision where education can be more affordable for students and easier for staff… I am really excited that so many people are coming into being interested in open textbooks

Maren Deepwell
We talked too about self-care and life balance in pandemic times, and the impact of Maren's experience adopting and raining a labrador spaniel cross puppy named Posey. I conjectured that maybe more open puppies might be an answer to the times! This aligns with Maren's interest and focus on care:
"Care and balance come into conflict a lot and I have been interested in the conversations in open education about equity but also about care- showing care to students, to staff, and care within the organization, but I also realized a part of that care equation is care for yourself. I can't care for others if I can't care for myself.

Maren Deepwell
During Open Education Week this year, ALT is planning activities related to their Framework for Ethical Learning Technology
The affordances of audio to connect us includes "It's something abut hearing the voice of people that makes me feel closer to them" especially when we may not want to be on video. This includes old fashioned phone calls, podcasts like this, and also a semi-regular Sunday night music show Maren does with colleagues on DS106radio.
See Maren's blog posts on virtual teams, including previews of her book-in-progress, as well as the past podcast series recorded with Martin Hawksey (plus his parallel blog posts). Her hope is to write the "book I wish I had when I started to manage people remotely" focussed in managing virtual teams, going beyond the mechanics and technologies of working from home.
There's much more to our conversation available in this episode. Thanks Maren for the time and being cooperative with Alan's on the spot requests to select the intro music based solely on song titles and to contribute to the voice mix for our introduction.
And we leave you with one more reminder to make plans to be part of OER22 in April.
---
The music for this episode is from the Free Music Archive, one of three song titles we offered Maren based on the GO-GN penguin mascot. Maren chose the title song (without hearing it, blame Alan) a videogame style tune called To be a Penguin and be Chased by a Penguin Eater by Komiku is shared into the public domain using a Creative Commons CC0 license.
Just for reference, the other penguin songs included Penguin by Ergo Phizmiz and Juice [penguin mix] by Dr Nol.
And our introduction was created by community voices, via a site where can explore and remix different versions and also add your own voice to the sources. Voices that appear in this introduction include Isla Haddow-Flood, Judith Sebesta, Shannon Smith, Alex Enkerli, Maren Deepwell, Shinta Hernandez, Lori-Beth Larsen. Lena Patterson, Jöran Muuß-Merholz, and Rajiv Jhangiani.